HEARING LOOP ADVOCACY
In the next few months the Chapter's advocacy efforts will pay off in the looping of a facility that will have a very beneficial effect on our two-county area. We will announce that when the process is implemented.
Hearing loop advocacy is expanding our ability to "hear" at public events throughout the country. HLAA's favorite comedienne, Gael Hannan, wrote a piece in Hearing Health and Technology Matters last month that gives more understanding to the hearing loop.
Closing the Gap: The Magical Intimacy of Hearing Loops
By Gael Hannan
I'm not in Kansas anymore. I can say that because a couple of weeks ago, I was in Kansas for the first time. So, now I belong to the club of We're-Not-in-Kansas-Anymore-People. (I don't have a Toto, so I use the royal 'we'.)
But while I was there, magic happened. The Lied Center, the performing arts venue at the gorgeous University of Kansas, has celebrated its 25th anniversary by installing a comprehensive looping system. I had the honor of delivering the inaugural presentation in the newly accessible theater.
From now on, Lied Center audience members with telecoil-equipped hearing aids and cochlear implants can, with a flick of a switch or a tap of a button, hear the sound of every voice and musical instrument made on stage right in their devices, anywhere they choose to sit. The system closes the gap between speaker and listener; rather than riding on sound waves across the distance to a hearing aid's receiver, the sound is transmitted directly through looping technology. Eliminating background noise, the sound presents itself with such clarity, it feels as if you're thinking these sounds. Telecoils and induction loops restore the intimacy of sound and speech and music that many of us have lost along with our hearing. And this is as magical as going somewhere over the rainbow.
Juliette Sterkens, an audiologist and one of the world's foremost looping advocates, provides more information on [link] the Loop Wisconsin site about how looping systems work with telecoils in hearing aids and sound processors. And it was thanks to the expertise of the amazing Ms. Sterkens, the equally-amazing Richard McKinley, whose company, Contacta, installs looping systems around the continent, and strong lobbying from the local hearing loss community, that the Lied Center has joined the ranks of fully accessible theatrical venues.
For my presentation, the crew installed a separate, temporary loop on the stage, so that as a performer with hearing loss, I could switch to telecoil and hear my own voice clearly. Musicians use a different system to get the same result, which is to hear themselves over the loud noise of the other musicians and a screaming crowd. If you can't hear yourself, you won't say the words or sing the way you're supposed to.
There was no screaming crowd or background noise the night I presented, just me alone on the stage, talking. Somebody coughed a couple of times, I think. But it was full-on access: in addition to the loop system, there was an English-ASL interpreter and real-time captioning (CART) provided remotely by a captioner, who apparently wasn't in Kansas anymore. Isn't technology simply magically mind-blowing? The only reason for an audience member not be engaged, to fall asleep, was if I bored them unconsciousness.
Some people don't want to be a bother, but countless others simply don't know about the simple magic of telecoils and looping.
If you have hearing aids that don't have telecoils – ask your audiologist about it. If you're told, "Oh that's old technology", just say, "Well, it's new to me and Gael Hannan said to tell you that I should have it!"
Looping Advocacy – Asolo Rep installs hearing loop system
Asolo Repertory Theatre patrons with hearing problems will be able to make use of the new hearing loop system that has been installed in the 500-seat Mertz Theatre in the FSU Center for the Performing Arts.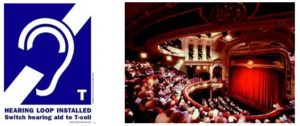 A hearing loop is a wire connected to the sound system that circles a room and transmits the sound that can then be picked up by the telecoil in a user's hearing aid or cochlear implant. The telecoil, a small copper wire that is an option in most hearing aids and is built into cochlear implant processors, functions as a wireless antenna to the sound system. Patrons who do not have a telecoil in their hearing aids will need a headset that will be provided by the theater. Numerous donors provided funds for the system including The Hearing Loss Association of America, Sarasota/Manatee; the Edward K. Roberts Emerging Needs Fund of the community Foundation of Sarasota County; Joel Fried and an anonymous donor.
"We will now be able to guarantee superb sound quality for all of our audiences," said Asolo Rep Managing Director Linda DiGabriele. "The hearing loop system will provide a much-needed service for patrons and immensely enhance their enjoyment of our productions"
HEARING LOOP ADVOCACY—STARBUCKS INITIATIVE
In the past two months, the Chapter has been advocating on a local and national basis for Beta testing of a hearing loop at the order stations of Starbucks.  The team of JoAnne DeVries, Maria Anderson and Richard Williams put together educational packets on looping and visited managers of Starbucks in the two county area to explain the needs of the hearing loss community in simply ordering a latte and muffin over the din of the machines, the music and the conversations.  It was learned the managers can do little to initiate change. The team followed up by sending packets to each Board member at their own business addresses (people like NBA's Bill Bradley and former Sec of Defense Gates) as well as CEO Howard Schultz and others at the home office.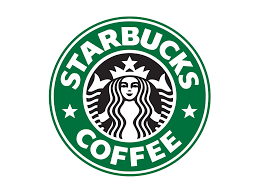 You can certainly help by explaining how much a hearing loop would help to the manager or the barista when patronizing Starbucks.
The cover letter is copied below—
         _______________________________________________________
All Starbucks Customers Are Not Happy Customers…
People with hearing loss love Starbucks; however, the noise from music, customers and espresso machines make it a difficult and frustrating experience to simply place an order.
Unpleasant customer experiences like these occur daily at all Starbuck locations, yet
it doesn't have to.
The addition of a low cost, easy to install induction hearing loop at the order counter facilitates communication by reducing unwanted background noise. The employee's spoken word is transmitted directly into the customer's hearing aid or cochlear implant
The hearing loop ensures a more efficient ordering process for Starbucks
and a significantly better customer experience for those with hearing loss.
The Sarasota/Manatee Chapter of the Hearing Loss Association of America has successfully advocated for improved communication access in more than 120 venues throughout our community and in the United States Supreme Court.
We ask that you consider installing a hearing loop in one or more of the 24 Starbucks stores in Sarasota and Manatee counties to evaluate its value to both Starbucks' revenue and the hearing loss community.
Forty-eight million persons in the United States, 20% of our population, report some level of hearing loss making it a public health issue third in line after heart disease and arthritis. Locally, more than 145,000 residents in Sarasota/Manatee counties are affected by this invisible condition.
Starbucks' recent "Choices" advertising campaign celebrates "those who work to include, rather than discriminate." Grocery retailers such as Wegmans Food Markets in the northeast and Publix Super Markets in the southeast have chosen to "include" those with hearing loss by installing this technology at selected pharmacy, checkout and customer service counters.
Every day, we have a choice. We hope you will choose to include those living with hearing loss.
The attached packet contains useful information regarding induction hearing loops. I will be happy to answer any questions you may have.
Thank you for your consideration. I look forward to hearing from you.
HEARING LOOP ADVOCACY
The Burns Court Cinema is undergoing a renovation which is an appropriate time to install a hearing loop.
In 2012, an attempt to install a hearing loop without tearing up the floor led to difficulties in balancing the sound.
The Sarasota Film Society is a 501 (3) (c) not for profit and is the owner of the Burns Court Cinema and the Lakewood Ranch Cinema. "The goal of the film society is community enrichment and educational programming"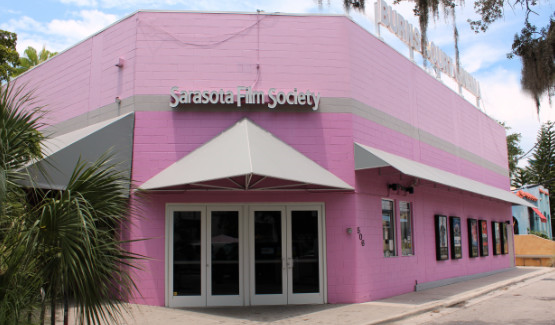 What could better enrich the community but the ability to hear the film, an ability that is not quite there for 145,000 hard of hearing citizens of the two county area.
What can you do?
Chapter members can thank Managing Director Nick Caras for considering looping the theatres. Unfortunately the cost of properly looping the theatres is $9,935 which is not within the budget of the Film Society.
HLAA leadership has been working with foundations and individuals to receive a 50/50 grant and to raise other funds.
Please, by email, relate your experience with the hearing loop at other venues and how the hearing loop at a film presentation would enhance your experience and bring you back to the movies. Nick Caras is the Managing Director of the Society and his email is: [email protected] . For HLAA records and use in presentations, please cc [email protected]
You could also contact a sponsor. There are 28 local Film Society sponsors who help to support the Society. You may know key people at one or some of them. Make a contact and alert them to the need in the community. https://filmsociety.org/sponsors/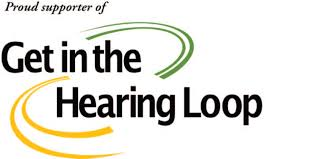 TWO HELPFUL APPS FOR LOOPED LOCATIONS
Stay in the loop wherever you go. There are now two great websites that will let you know about looped locations wherever you go.
The newest one, LOOPFINDER, is partnered by HLAA and can hone in on sites by category or location. HLAA and can hone in on sites by category or location – AND NOW, THERE IS AN APP FOR THAT!:
The website is: http://www.loopfinder.com/
Here is an example of a Loopfinder search. Once the loop area is shown, the area can be magnified like MapQuest and each loop location will be identified—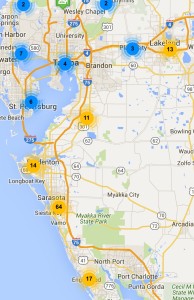 Also, Assistive Listening Device Locater http://www.aldlocator.com/ is equally helpful.
Remember our Mission includes advocacy—a "thank you" goes a long way in reinforcing the looping of the community. Make a point to "thank" a team member at any facility where you use the loop.
Self-Advocacy—Report Loop issues
We hear that loops are not "on" or working properly from time to time. It is up to each of us to address this concern with the venue if it is encountered. If you are having difficulty with your issue with a theatre, church or other location, please contact our President, JoAnne DeVries at [email protected] . The Chapter will contact the loop installer if there is a technical problem
Hearing Loops Featured in The Wall Street Journal
David Myers is an HLAA advocate and a psychology professor at Hope College in Holland, Michigan. He is the author of "A Quiet World: Living with Hearing Loss". Mr. Myers is recognized as a champion of hearing loops and he recently wrote an article featured in The Wall Street Journal about his efforts to spread hearing loop technology in the United States.
The story is an excellent way to address looping to friends and businesses that are not familiar with looping. Advocates are using the article as a reference to explain looping to corporations such as Starbucks to understand its use in business.
The WSJ link is limited to subscribers so the story has been linked to the Chapter's website and is found below in "read more".
A Technological Godsend to Counter Hearing Loss
The 'hearing loop' is a remarkable advance, but all too hard to find in the U.S.
By DAVID G. MYERS
WSJ Aug. 27, 2015
The first time I clicked on my hearing aids' telecoils, it seemed like magic. It was 1999 and my wife and I were sitting in a historic abbey on Scotland's Isle of Iona. I had gradually become hard of hearing and had gotten my first hearing aid in my 40s, and the abbey wasn't built with acoustics in mind. The amplified voice of the worship leader caromed off the stone walls, reverberating into a fog by the time it reached my ears.
Then my wife noticed a sign with a capital T and an outline of an ear, which indicated that the abbey was wired with a "hearing loop" that could magnetically transmit sound from the PA system to the telecoils in my hearing aids. When I flipped the switch to turn my T-coils on, the fog instantly dissipated. I could hear a crystal-clear voice speaking seemingly from the center of my head. The experience took me to the verge of tears.
Hearing loops are now ubiquitous in Britain. They're in churches and auditoriums, at tens of thousands of ticket windows, post offices and pharmacies and in every London taxi. At spacious Westminster Abbey, with my hearing aids' microphones turned off and my T-coils turned on, I hear better than most in the audience.
After that epiphany on Iona, I became an evangelist: Why not loop America? Theaters and other public venues in the U.S. generally offer "assistive listening" devices. But that typically requires people with hearing loss to locate, check out and wear a conspicuous headset. I recently asked my local movie multiplex in Holland, Mich., how often these headset units get used. The reply: "Once per month, per theater."
That's a shame. Some 48 million Americans have hearing loss in one or both ears. For my mother it was socially isolating. She quit going out, except to church, where, amid others, she heard little. I can sympathize. When I remove my hearing aids I have a near deaf experience. In the gym locker room, the banter goes nearly silent. In bed at night, my wife's voice from the adjacent pillow is indistinct.
But unlike my mother, I am served by new ear-opening technologies. My hearing aids suppress background noise and amplify only the sounds I need. I can wirelessly transmit phone calls and stereo music to them from my smartphone. I even looped my home TV room. With a simple press of a button, muffled sound becomes clear, thanks to the wireless speakers in my ears.
The challenge for hearing loops in the U.S. is inertia—existing installations of less convenient technologies are often already in place. Adding a hearing loop which involves running a coil of wire around the circumference of the coverage areas, costs money: several thousand dollars, perhaps, for a modest-size church or auditorium.
The airport 35 miles from me in Grand Rapids, the second largest in Michigan, looped both of its concourses and 15 gates and now broadcasts boarding and delay announcements directly to hearing aids. The cost to install the system was a little more than $130,000—not a lot, in the grand scheme of things. Picking up the magnetic signal requires a $2 telecoil, which came standard on 72% of the hearing-aid models sold in the U.S. last year and all cochlear implants.
With support from the Hearing Loss Association of America, the American Academy of Audiology, and other hearing loop advocates, the technology is spreading throughout the U.S. Nearly every worship place and auditorium in my community now has one, including at Hope College, where I work. One of America's largest hearing-loop installations is the 12,200-seat basketball arena at Michigan State University.
In New York City, subway fare booths are now looped, as are most of the new Nissan taxis and several Broadway and Lincoln Center theaters, including the Gershwin and Rodgers. In Washington, D.C., hearing loops now include the chambers of the Supreme Court and the U.S. House of Representatives. On July 29 a committee of the U.S. Access Board recommended looping individual subway and railcars, if it proves technically feasible.
All of this represents a huge step forward for people with hearing loss. A survey last year published in Hearing Review  asked 866 people to rate the performance of their hearing aids or cochlear implants using a 10-point scale. The average response was 4.9 in a non-looped setting and 8.7 in a looped environment.
It's easy to find similar stories. One person, after first turning on his telecoil for the first time, told a friend of mine that it "felt like God was talking." Margaret Newton, the business manager of suburban Chicago's 882-seat Marriott Theatre, reports that after installing a hearing loop, she began to receive thanks from attendees after every performance. "I cannot begin to tell you the amazing difference this has made," she says.
With momentum now on the side of the hearing loop, I happily foresee a future my mother could not have imagined. Hearing loss need not be debilitating or isolating. As a campaign by the Hearing Loss Association of America says, "Get in the Hearing Loop." Hear ye! Hear ye!
Mr. Myers is a psychology professor at Hope College in Holland, Mich., and the author of "A Quiet World: Living With Hearing Loss."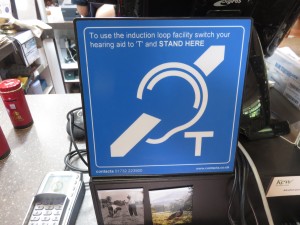 Chapter Member Doug Schuler saw this sign in the gift shop at the Royal Botanic Gardens in London.
Wouldn't it be great if every checkout point in the U.S. was looped?
We have two Publix stores (Longboat Key and Venice Commons) and a lane at Whole Foods looped here in Sarasota County—it's a start!
If you are travelling and see the loop sign, send it to your Listen Up editor at [email protected]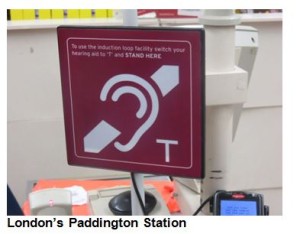 For new readers, the telecoil and looping are explained ahead:
What is a Hearing Loop?
A hearing loop is a wire that circles a room and is connected to a sound system. The loop transmits the sound electromagnetically. The electromagnetic signal is then picked up by the telecoil in the hearing aid or cochlear implant.
To use a hearing loop, you flip on the t-switch on the hearing aid or cochlear implant to activate the telecoil. Usually, no additional receiver or equipment is needed. Using a telecoil and hearing loop together is seamless, cost-effective, unobtrusive, and you don't have to seek additional equipment. Hearing loops are also called audio-induction loops, audio loops, or loops. If your hearing aid doesn't have a telecoil, you will need a headset plugged into a loop receiver to achieve the same effect.
Find out more at http://www.hearingloss.org/content/loop-technology
What is a Telecoil?
A telecoil in a hearing aid functions as a wireless antenna that links to the sound system and delivers customized sound to the listener. A telecoil is a small copper coil that is an option in most hearing aids and is built into cochlear implant processors. Telecoils also known as t-coils and were originally used to boost the magnetic signals from the telephone handset. The telecoil is activated by a t-switch. All landline and some cell phones are designed by law to be used with a telecoil.
The telecoil can make a noticeable difference in your life when combined with hearing assistive technology such as the hearing loop. This pairing of technology bridges the space between you and the sound source. The hearing loop connects the listener directly to the sound source while most of the background noise is eliminated.
If you are buying a hearing aid for the first time, be sure to ask that a telecoil be included. With a telecoil you can expand the functionality of your hearing aid or cochlear implant.
Local Venues with Hearing Loops
Traveling in 2015?    Stay in the loop.
Click on the Loop Locator Link to find looped venues
Remember the HLAA Mission includes advocacy—and a "thank you" goes a long way in reinforcing the looping of the community
120+ Looped Venues in Sarasota and Manatee Counties – Click here for Loop Locator 
Sarasota, Bradenton and Venice are the first cities in the US to have a majority of their theatres looped. Van Wezel, Player's Theatre and the Sarasota Orchestra are all currently looped.
Let's Loop SRQ! is our advocacy effort to get Hearing Loop Systems into local public venues to increase access for the 145,000 people in Sarasota and Manatee Counties with hearing loss.  We account for 16.1% of the local population and our incidence is the highest in the nation.
This is the official sign designating a venue that has a Loop System. Note the capital white  "T" in the lower right corner. This designates a system that sends the sound directly to a T-Coil, a tiny wireless receiver that the hearing aid must have to receive the sound.
HLAA Hearing Loop Campaign – Loop Resources
Auditory Listening Training – click here 
HLAA Loop Campaign – click here
How Hearing Loops Work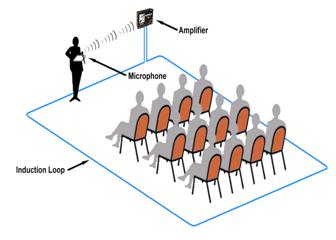 The Hearing Loop System is the only system that sends clear, superior sound from a microphone directly into a hearing aid or cochlear implant without interference.
Hearing Loop Systems are the ideal solution for people who wear hearing aids or cochlear implants to hear better in theateres, churches, banks, restaurants and so many other public places. A hearing loop is the only system that sends the sound of a voice or instrument  from a microphone directly into a hearing aid or cochlear implant for the clearest, most superior sound currently possible. Popular for over 40 years in many European  cities, the system is starting to take hold in the U.S.
Hearing Loop Systems are very affordable and require no maintenance. The system simply entails an amplifier that is hooked up to an existing microphone or sound board that connects to an induction loop which is placed around the perimeter of the theatre, meeting room or area where an audience or congregation sits. The magnetic field created projects the sound directly to a T-Coil, a wireless receiver that acts a loudspeaker inside a hearing aid.
Most hearing aids come equipped with a T-Coil which is shown in the picture in the next section. If you have never used your T-Coil, see below.
How to Use Your T-Coil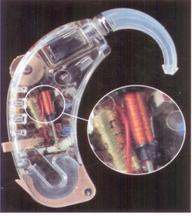 It is estimated that 70% of hearing aids in use today have a T-Coil. Nearly 90% of all new hearing aids come equipped with one. The primary exceptions are the tiny aids, especially the all the way in the ear models. which do not have the space for one. A good rule of thumb to remember is overall hearing aid performance increases with the aid size.
Most T-Coils are accessible by flipping a switch on your hearing aid. In a few cases, the T-Coil is automatically engaged in the presence of a hearing loop system. In some other cases, your audiologist needs to activate your T-Coil bfore you can access it.
If you have never used your T-Coil, we recommend seeing your audiologist to confirm you have one and to learn how to engage it. If your aid doesn't have a T-Coil, talk to your audiologist about adding one.
Once you have access to your T-Coil, we suggest coming to one of our monthly meetings where we always have a Loop System to support the speakers.
Local Venues with Hearing Loops
120+ venues have been looped in Sarasota/Manatee–click on Loop Locator Link
Great Article on T-Coils
 When I Say I Want Telecoils by Gael Hannan – Click HERE