JUNE CHAPTER MEETING RECAP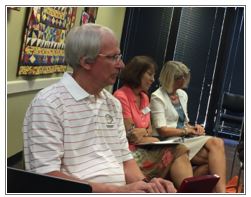 As always, those who had difficulty with hearing even with the hearing loop and microphone in operation did not miss a word thanks to our ever present CART (Communication Access Realtime Translation) transcriber, Jack Boenau.
Our program chair, Kathy Combs and Member Valerie Stafford-Mallis (all pictured above) directed the discussion of the 25 members ranging from cochlear issues, new hearing aid technologies and many other topics.

Audiologists, Dr. Karen Draper of The Hearing Spas and Dr. Sharon Rende of the Silverstein Institute kept us informed on the current studies regarding hearing loss as well as the advances in technologies (including Phonak's "Roger Select", the old "Roger" on steroids) with not only hearing aids and cochlear implants but assistive devices available to help in daily situations.
Longtime member and advocate Flo Innes promised to report back on a number of assistive devices she will try at the HLAA Convention in Minneapolis.
MAY CHAPTER MEETING RECAP
Hurricane season begins today, June 1!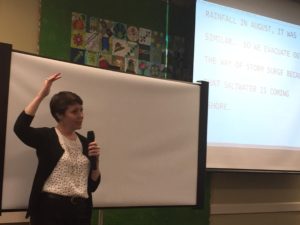 Following 2017's historically destructive fall and summer, scientists are now predicting the upcoming 2018 hurricane season will again be above average.
At May's meeting, Sherilynn Burris, Emergency Management Chief at Manatee County Government, brought us up to date on hurricanes from a meteorological perspective. Most importantly, she explained the Sarasota and Manatee County evacuation maps, and why it is too late to evacuate if you wait for the order.  
Sherilynn gave us the standard preparedness tips and a whole lot more – in particular how to prepare for the electricity going out by using your car to charge your phones or cochlear implant batteries, as well as understanding the effects if your public lift station has no power. 
The great thing about chapter meetings is they do not really end with adjournment. In May, members got together with the speaker and chapter officers to gain more information as the photos below indicate.
APRIL CHAPTER MEETING RECAP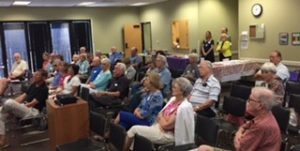 Our presenter in April was from the Florida Telecommunications Relay, Inc. (FTRI). Fabiola Sannon, FTRI Specialist, told us about the not for profit FTRI, which is funded by a monthly 10-cent tax on every landline phone.
There was an informative question and answer session about phones for the hard of hearing and a demonstration of the ring, lighting, captioning and amplification of a number of phones available FREE by appointment, even in your home.
[Contact is 941

-3

51

–

9

5

45

. FTRI is located at 3281 17th St., Sarasota.]