February Chapter Meeting Recap
Our February meeting was a presentation on the latest research and treatment of tinnitus ("it-is" or "i-tus" are both acceptable pronunciations) by Julie Daugherty, Ph.D., NP-C, Assistant Director of Research for the Ear Research Foundation.
Dr. Daugherty received her Ph.D. in nursing science from USF with an emphasis on the relationship between hearing and cognition.
Julie advised that in the U.S., 50 million have tinnitus and 10 to 15 million seek treatment. She further stated that NIHL ("Noise-Induced Hearing Loss") puts 30 million of us at risk – and that can be avoided.
Tinnitus is not hearing words or music – that is another problem altogether – but it is sounds in the head that are individual to each person and with different levels of intensity. The sounds can come and go. The most common cause is NIHL.

Julie explained decibel levels effect on NIHL and advised that conversation at   60-70 decibels is just fine, but workplaces over 85 decibels are not good and 15 minutes of noise over 90 decibels (think rock concert) can cause trauma to the cochlea.
Dr. Daugherty summarized current research in depth and then discussed treatment including treating underlying hearing loss, neuromodulation, counseling and education.
A lively Q and A session brought out other causes of tinnitus and personal solutions to inner ear issues.
January Chapter Meeting Recap
Our guest speaker was Katie Figueroa, Engagement Manager with Cochlear Americas.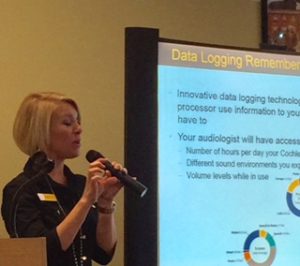 Katie works throughout South Florida raising awareness of implantable hearing solutions. She spoke about the Nucleus 7 sound processor, which is the smallest and lightest behind-the-ear solution. She explained how the partnership with Apple resulted in an iPhone app that offers a smart and bimodal hearing experience. She discussed many technical advancements, such as SmartSound IQ with scan dual microphone and an automatic sound processing system with access to high frequency sounds.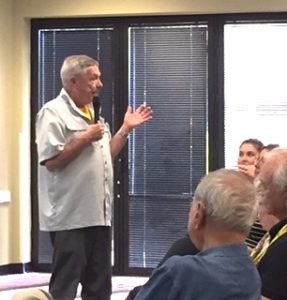 Chapter President Anne Taylor updated us with Chapter events and introduced Jeff Bonnell, the State Director in Georgia for HLAA, who spoke about Gallaudet University and the HLAA Convention in Minneapolis this June.
DECEMBER CHAPTER MEETING RECAP
The Chapter's Holiday Party was a great success thanks to Betty Comora, an active and eclectic entertainer on the Sarasota scene for years. We had fifty members in the house, and CART made the stories easy to follow.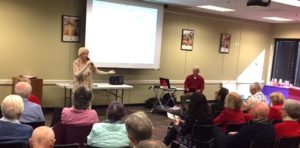 Betty appeared as Fanny Brice and her one-hour show included stories about "her" childhood, the false stories in the movie Fanny and, along the way, the hits and novelty songs that made her famous. The repartee included her recounting singing at a young age for coins and prizes as well as the years with Nicky Arnstein and Billy Rose.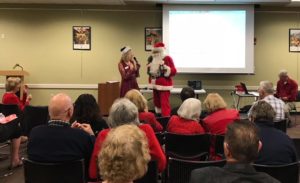 Santa joined our gathering as Fannie closed the show to cap off a wonderful day with a nice spread of holiday sandwiches and sweets.