APRIL CHAPTER MEETING RECAP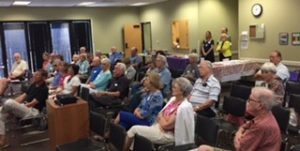 Our presenter in April was from the Florida Telecommunications Relay, Inc. (FTRI). Fabiola Sannon, FTRI Specialist, told us about the not for profit FTRI, which is funded by a monthly 10-cent tax on every landline phone.
There was an informative question and answer session about phones for the hard of hearing and a demonstration of the ring, lighting, captioning and amplification of a number of phones available FREE by appointment, even in your home.
[Contact is 941

-3

51

–

9

5

45

. FTRI is located at 3281 17th St., Sarasota.]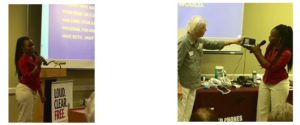 MARCH CHAPTER MEETING RECAP
Deputy Karen Hicks of the Sarasota County Sheriff's Office was our presenter. She spoke about "Personal Safety Issues and Avoiding Scams".
She first reminded all Sarasota County residents that "Text 911" is now operable. If you have difficulty hearing on a cell phone, you may text an emergency call.
Her presentation started with credit card frauds including "skimmer" cards used to access your credit card information. Using middle gas pumps and confirming the "click" at ATMs was recommended.
Audience participation was active. Advice from Deputy Hicks and the experiences of our own members added to the awareness we all should exercise daily to avoid the "bad guys".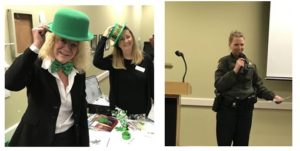 Pictured:Our President, Anne Taylor, and our Vice-President, Vinell Lacy greeted all by starting the St. Patrick's Day celebration a little early. 
Deputy Karen Hicks spoke about frauds and scams.
Treasurer David Donnelly explained the Chapter's sources of income on our financials and the upcoming (Noon May 1 to Noon May 2) Giving Challenge.
Our Chapter Consultant, Valerie Stafford-Mallis, followed up with additional information on the May 1 Giving Challenge.
Program Chair, Kathy Combs, introduced Deputy Hicks.
Flo Innis prepared a holiday punch enjoyed by all, along with other munchies.
February Chapter Meeting Recap
Our February meeting was a presentation on the latest research and treatment of tinnitus ("it-is" or "i-tus" are both acceptable pronunciations) by Julie Daugherty, Ph.D., NP-C, Assistant Director of Research for the Ear Research Foundation.
Dr. Daugherty received her Ph.D. in nursing science from USF with an emphasis on the relationship between hearing and cognition.
Julie advised that in the U.S., 50 million have tinnitus and 10 to 15 million seek treatment. She further stated that NIHL ("Noise-Induced Hearing Loss") puts 30 million of us at risk – and that can be avoided.
Tinnitus is not hearing words or music – that is another problem altogether – but it is sounds in the head that are individual to each person and with different levels of intensity. The sounds can come and go. The most common cause is NIHL.

Julie explained decibel levels effect on NIHL and advised that conversation at   60-70 decibels is just fine, but workplaces over 85 decibels are not good and 15 minutes of noise over 90 decibels (think rock concert) can cause trauma to the cochlea.
Dr. Daugherty summarized current research in depth and then discussed treatment including treating underlying hearing loss, neuromodulation, counseling and education.
A lively Q and A session brought out other causes of tinnitus and personal solutions to inner ear issues.