MAY CHAPTER MEETING RECAP
"A Life Well-Lived with Hearing Loss"
Our speaker was Henry Kisor, the retired book editor of the Chicago Sun-Times and author of six mystery novels set in the Upper Peninsula of Michigan.
Henry, who has lived with profound deafness since the age of three, gave an insightful and humorous talk of his years as a railroad buff, a deaf pilot, an airline traveler and his wonderful experiences with his service do

He spoke of the books he has written and the book that will be released in September co-authored with Chapter Trustee Chris Goodier entitled Traveling with Service Animals. Our forty members in attendance enjoyed the stories along with suggestions of how to cope with hearing loss while traveling.
APRIL CHAPTER MEETING RECAP
Don Ladimir, Title IX ADA Specialist with ClearCaptions, was our speaker.  
Don brought us up to date on what the caption phone industry is doing to improve communication. He advised that ClearCaptions (which is similar to CaptionCall and CapTel) is rolling out captions for Android and iPhones in the next few months. This sparked a wide-ranging discussion of InnoCaption's strengths and weaknesses as well as comparisons of the three landline phone services. Our members were very knowledgeable about caption phones and Mr. Ladimir's expertise added to a most informative presentation.  
Both Mr. Ladimir and a special seasonal guest added to a fun and informative afternoon.
MARCH CHAPTER MEETING RECAP
"Why Should I Consider a Cochlear Implant?" was our topic and Virgi Mills, MED, a Consumer Engagement Manager for MED-EL was the presenter. A well-attended Chapter meeting learned about all the latest in advancement of cochlear implants, including bone conduction technology. As they say on Twitter, #bellsandwhistles.
 St. Patrick's Day was celebrated with a great raffle with the assistance of Doug Schuler in full Irish regalia.
FEBRUARY CHAPTER MEETING RECAP
Our speaker was Beth Reckord, who is Speech-Language Pathologist, CCC-SLP, a member of the HLAA Sarasota/Manatee Chapter Board and member of the AG Bell Association for the Deaf and Hard of Hearing. She spoke about "Ten Communication Strategies to Use When Listening & Talking".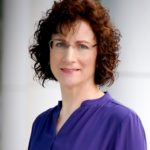 Communication strategies can ameliorate the frustrating or isolating effects of missing out on or misinterpreting conversations and can help you make meaningful connections with others. Beth's experience and recommendations were valuable to all who attended, and it was agreed this would be a great encore presentation for After Hours.
We had a full house and amazing audience participation with great tips on assisting oneself to participate in conversation and hearing.
Our President also declared February as "Fabulous Flo Month!" in honor of Flo Innes' thirty years of inspiration and education to the HLAA/SHHH.
JANUARY CHAPTER MEETING RECAP
"Medications and Hearing Loss" was the topic of our first meeting of 2019 and the Chapter had fifty members and friends in attendance, a good turnout to kick off the new year! The questions kept coming as pharmacist Jeff Carlen was well prepared to discuss the importance of the physician/patient/pharmacist relationship to your health.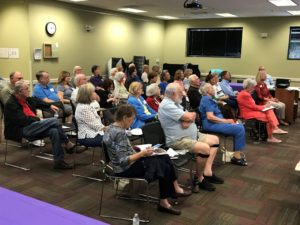 Mr. Carlen emphasized the importance of dosage to hearing loss incidents and spoke about the effects of duration of therapy, rate of infusion, renal failure, liver failure and ototoxic concerns with drug interactions. He went through four or five aminoglycoside antibiotics and the damage to the inner ear that could result in vertigo, balance issues and hearing loss.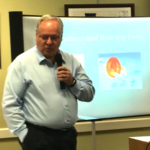 In the discussion, including chemotherapy medications, diuretics and pain medications, he emphasized the need to be proactive with both your pharmacist and your physician to make your hearing loss known.
DECEMBER CHAPTER MEETING RECAP

The Chapter traditionally celebrates the December meeting with holiday entertainment and lots of goodies. This year was no exception!
The annual election of Board Trustees was held and then our president, Anne Taylor, after announcements, presented a humorous piece on getting through the holidays with hearing loss.
A festive group was on hand to have fun with our entertainer, Betty Comora, who presented "Songbirds of Jazz" from Fanny Brice to Betty Boop. She topped it off with her washboard renditions, which were a crowd-pleaser.
NOVEMBER CHAPTER MEETING RECAP
Sharon Rende, Au.D., Director of Audiology at the Silverstein Institute, spoke on "The Latest in Surgical Options for Hearing Loss".

Our president, Anne Taylor, opened the meeting by expressing thanks to the technological advancements and the audiologists and other professionals who help those of us with hearing loss achieve a better life.   
Sharon spoke about the types of hearing loss, how we hear, and how hearing aid technology has advanced over the years. She passed around implantable devices and spoke about the best candidates for each device. They included BAHA implants, the Maxum, the Soundbridge, the Earlens and other advancements that may be coming to market.  
Dr. Rende discussed the three brands of cochlear implants. Each brand has a hearing aid designed to work with their CI creating a bimodal solution. Many questions from our knowledgeable attendees were answered. 
The Chapter had a good turnout, and many stayed after for follow-up information.
OCTOBER CHAPTER MEETING RECAP
Chapter member Christine Goodier is an Osprey, Florida-based freelance travel writer, editor and photographer. Chris, who cannot hear once she turns off her cochlear implant at night, felt the need for a trained hearing dog. She explained the protocols of the training, and daily alerts that perhaps we do not consider, such as the oven timer, clothes dryer alert, doorbells, knocking and so on.  
She also spoke about travel difficulties with an invisible handicap. The dog allows flight attendants and others to recognize the need to communicate properly. 
Chris' presentation was entitled "Would a Hearing Assistance Dog be Right for Me".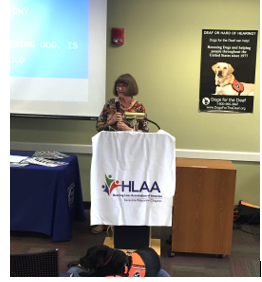 Since 2014, Chris has been accompanied on her travels by her Hearing Dog, Raylene, a Labrador trained by Dogs for Better Lives, a nonprofit organization previously known as Dogs for the Deaf. With co-author Henry Kisor, Chris has written a unique travel guide to be published in 2019 by the University of Illinois Press titled Journeys with Working Dogs: Navigating Service Animals Across North America.
Her stories were most entertaining as she conveyed a lot of information in our limited time. The Q and A brought out even more facts of the value of a hearing dog.
SEPTEMBER CHAPTER MEETING RECAP  
The meeting opened with Chapter Treasurer Dave Donnelly's report indicating that HLAA-Sarasota/Manatee's primary support comes from the Giving Challenge and fees from exhibitors at the annual Expo (coming up October 27).
Chapter president Anne Taylor gave a rundown of upcoming events.
Board member Ed Ogiba explained the new features of the 7th Annual Hearing Tech Expo, including a clinic and children's (and parents') events.
Flo Innes, an early Chapter member back when HLAA was SHHH, reported on the HLAA Convention held in Minneapolis this past June.

Flo then spoke about an array of hearing assistive devices including pocket talkers, alarm clocks, doorbells, FM and Bluetooth devices for the TV and many more. She advised that HLAA members get 20% off all purchases through Harris Communications whose catalogue lists literally 100s of devices that can help the hard of hearing get through each day a little better and safer.
https://www.harriscomm.com. [see similar discounts on ten other companies for HLAA members at https://www.hearingloss.org/make-an-impact/become-a-memberrenew/]
The first "Lunch and Learn" was a great success with 40 members and visitors arriving at the new time and many taking advantage of the $5 lunch spread of sandwiches, snacks and cookies.
JULY AND AUGUST CHAPTER MEETING RECAP
"Rap Session" is a summer staple of the Sarasota/Manatee Chapter.
There is no guest speaker, just an open session to focus on your individual needs.
Attendance was good this year and sessions were facilitated by Dr. Vicki Moore of The Hearing Spa and Dr. Sharon Rende of the Silverstein Institute.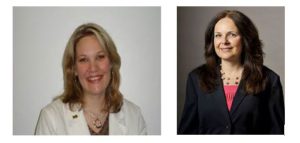 In July, our facilitators fielded numerous questions regarding criteria of Cochlear Implants. Also, what to tell your audiologist or HAS when you're having trouble with your instruments, auditory rehab, and hearing in noisy situations.  
They were both gracious to be there with our group on their own time. 
Flo Innes, our September speaker, did a demonstration of an alarm clock that was unintentionally the hit of the meeting as Flo could not get it to work … and then a few minutes after she had given up, the thing went off like a rocket! 
In August, the discussion ran overtime as the attendees shared knowledge and concerns about a variety of topics: selecting an audiologist; the new amplifier hearing aids; movie caption preferences; when to get a hearing aid (if you need to ask, NOW), lip reading classes; hearing aid assistance for the underprivileged; rechargeable hearing aids (may not have telecoil); recycling hearing aids; features of advertised aids and big box aids; relearning to hear apps and much more!
JUNE CHAPTER MEETING RECAP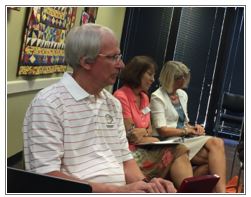 As always, those who had difficulty with hearing even with the hearing loop and microphone in operation did not miss a word thanks to our ever present CART (Communication Access Realtime Translation) transcriber, Jack Boenau.
Our program chair, Kathy Combs and Member Valerie Stafford-Mallis (all pictured above) directed the discussion of the 25 members ranging from cochlear issues, new hearing aid technologies and many other topics.

Audiologists, Dr. Karen Draper of The Hearing Spas and Dr. Sharon Rende of the Silverstein Institute kept us informed on the current studies regarding hearing loss as well as the advances in technologies (including Phonak's "Roger Select", the old "Roger" on steroids) with not only hearing aids and cochlear implants but assistive devices available to help in daily situations.
Longtime member and advocate Flo Innes promised to report back on a number of assistive devices she will try at the HLAA Convention in Minneapolis.
MAY CHAPTER MEETING RECAP
Hurricane season begins today, June 1!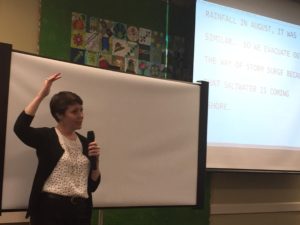 Following 2017's historically destructive fall and summer, scientists are now predicting the upcoming 2018 hurricane season will again be above average.
At May's meeting, Sherilynn Burris, Emergency Management Chief at Manatee County Government, brought us up to date on hurricanes from a meteorological perspective. Most importantly, she explained the Sarasota and Manatee County evacuation maps, and why it is too late to evacuate if you wait for the order.  
Sherilynn gave us the standard preparedness tips and a whole lot more – in particular how to prepare for the electricity going out by using your car to charge your phones or cochlear implant batteries, as well as understanding the effects if your public lift station has no power. 
The great thing about chapter meetings is they do not really end with adjournment. In May, members got together with the speaker and chapter officers to gain more information as the photos below indicate.
APRIL CHAPTER MEETING RECAP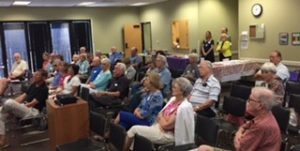 Our presenter in April was from the Florida Telecommunications Relay, Inc. (FTRI). Fabiola Sannon, FTRI Specialist, told us about the not for profit FTRI, which is funded by a monthly 10-cent tax on every landline phone.
There was an informative question and answer session about phones for the hard of hearing and a demonstration of the ring, lighting, captioning and amplification of a number of phones available FREE by appointment, even in your home.
[Contact is 941

-3

51

–

9

5

45

. FTRI is located at 3281 17th St., Sarasota.]