OCTOBER CHAPTER MEETING RECAP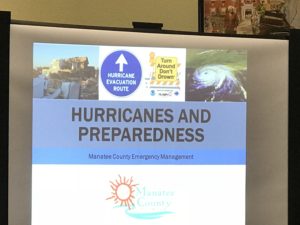 Our speaker was the Manatee County Emergency Director, Sherilynn Burris.
Her responsibilities include coordination with Sarasota, Hillsborough, and other adjacent counties as well as statewide coordination for all disasters.
She related how the County prepared for Hurricane Irma and what transpired from a state and local level. She explained there are ways to prepare well in advance and that a shelter, which can be most uncomfortable, can be avoided with proper preparation.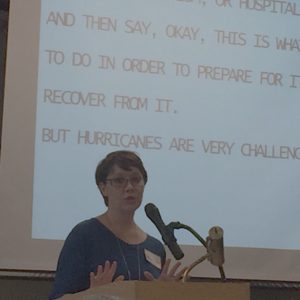 The Director emphasized the need for a family plan, a disaster supply kit, safety information and much more.
She informed us that both Manatee and Sarasota County have text 911 for the deaf and hard of hearing and participate in WEAs, Weather Emergency Alerts. 
Sherilynn spoke about her own hearing loss and affinity for our Chapter and will return at the beginning of next hurricane season.
SEPTEMBER CHAPTER MEETING RECAP
Dr. Lisa Turner, Au. D., of Advanced Diagnostics and Hearing Solutions in Brandon spoke about "Hearing and the Aging Brain".
She reviewed the relationship of loss of hearing with cognitive loss and explained why with slides and medical research conclusions.
Her presentation was well received and questions and comments continued until the library staff had to evict us. Presentations, as always, are on the cutting edge of medical advancements and technology.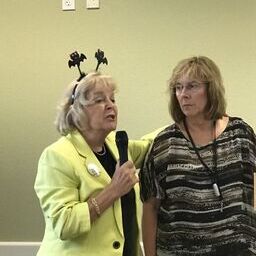 Dr. Tanner's concern for patients and stress for follow-up by any hearing specialist was explained and one of the reasons Chapter co-founder Flo Innes declared Dr. Tanner to be #1 in patient care.
Some members of the Board and Dr. Tanner began the October 13 "Happy Hour" a little early!
JULY and AUGUST CHAPTER MEETING RECAP 
The July "Rap Session" included a presentation by HLAA Lakeland member and "Guest Expert", Larry Kavanaugh. Larry has gone through HLAA N-CHATT training and put together an outstanding presentation for us called: "Traveling? Don't Forget Your HAT".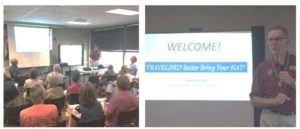 Larry discussed how Hearing Assistive Technology (HAT) could help get us through stressful travel situations, since a hearing aid or an implant is often not enough in these situations. In such cases, there are technologies that are designed to help people with hearing loss. These are designed to enhance telephone communication, TV reception, ensure an effective smoke alarm, or listening in various kinds of public venues.
This set off participation by all in sharing strategies, technology and questions that Larry and members addressed. This was another great meeting demonstrating peer support.
The August "Rap Session" included a presentation by audiologist, Mary Thorpe, of HearCare Connection. The talk was called "Hearing the Call – Locally and Globally".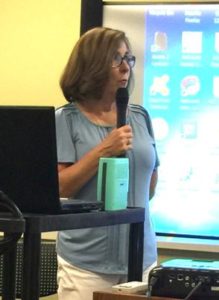 Dr. Thorpe of addressed the charity's work locally and internationally.
In Sarasota, the not for profit provides hearing screenings, hearing tests, hearing aids, hearing aid maintenance, hearing aid repairs, and follow-up care after initial treatment for persons unable to afford such services.
Mary presented a moving video of the international work that they have done in Haiti, Central America and Mozambique. Below is a link to some videos of their work.
Hearing the Call: Team travels to Mozambique to provide hearing healthcare
Please also note that HearCare recycles old hearing aids for reuse in the community and internationally, and accepts your donated hearing aids.
JUNE CHAPTER MEETING RECAP
The June "Rap Session" kicked off with a discussion about the legislation initiative for "over-the-counter" hearing aid sales, which was introduced following recommendation of the National Academy of Sciences to change FDA limitations. [See Anne Taylor's article below for more on this.]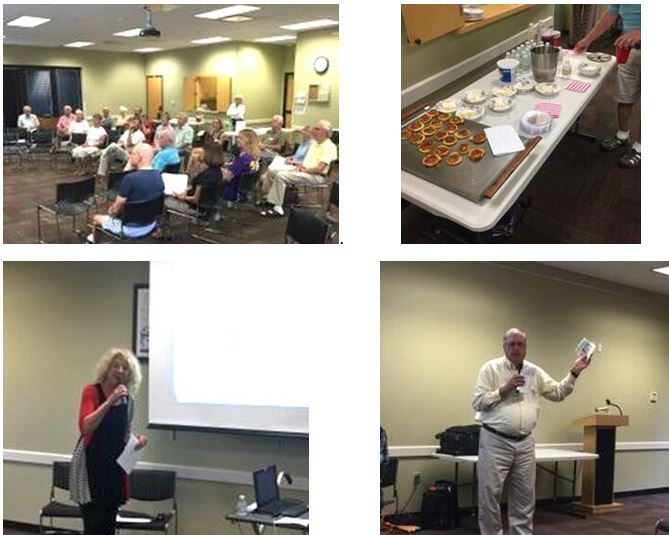 The discussion then turned to technology and the assistive devices we use, where to donate used devices, issues of frustration with cochlear device compatibility with hearing aid, and personal experiences in hearing.
Several websites, included in the link below, were mentioned to help strengthen speech comprehension:
http://www.hearingloss.org/content/listening-training-programs
MAY CHAPTER MEETING RECAP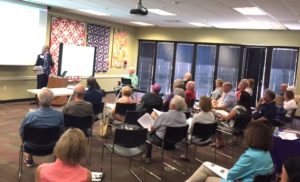 "What People with Hearing Loss Need to Know About Doctors and Hospitals" gave 45 Chapter members and guests information about their rights and responsibilities for effective communication during healthcare encounters; how to use available tools to help support effective communication at each step of the way; and what to do when the inevitable snafus occur.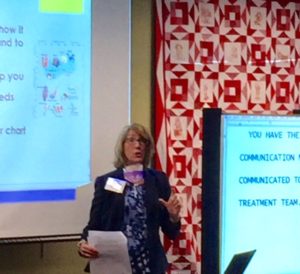 Valerie Stafford-Mallis presentation was filled with examples of failures, successes and plenty of humorous situations. The key is to "Plan Ahead" with an effective communication access plan (CAP).
Materials to assist you and carry out a CAP have been placed on the HLAA National website at http://www.hearingloss.org/content/health-care-guide.
APRIL CHAPTER MEETING RECAP
Debi Moser, the Cap-Tel Outreach Representative, spoke about technical improvements in caption phones. The 880i (on left) is demonstrated by Flo Innis and the 840i (middle) as shown by Richard Pocker were the prior generation of CapTel phones.  
Debi is holding the 2400i, the new Bluetooth phone that allows you to not only use it wireless throughout the home, but away from home wherever Wi-Fi is accessible –Wow!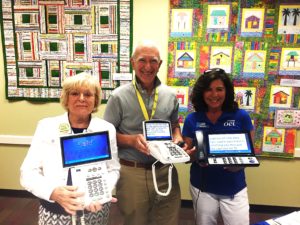 Our President, JoAnne DeVries, brought us up to date on Chapter events as always.