JUNE CHAPTER MEETING RECAP
The June "Rap Session" kicked off with a discussion about the legislation initiative for "over-the-counter" hearing aid sales, which was introduced following recommendation of the National Academy of Sciences to change FDA limitations. [See Anne Taylor's article below for more on this.]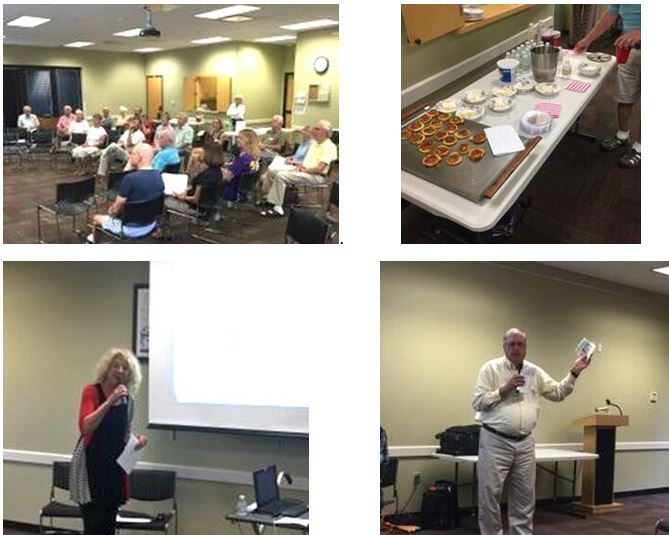 The discussion then turned to technology and the assistive devices we use, where to donate used devices, issues of frustration with cochlear device compatibility with hearing aid, and personal experiences in hearing.
Several websites, included in the link below, were mentioned to help strengthen speech comprehension:
http://www.hearingloss.org/content/listening-training-programs
MAY CHAPTER MEETING RECAP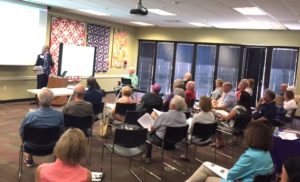 "What People with Hearing Loss Need to Know About Doctors and Hospitals" gave 45 Chapter members and guests information about their rights and responsibilities for effective communication during healthcare encounters; how to use available tools to help support effective communication at each step of the way; and what to do when the inevitable snafus occur.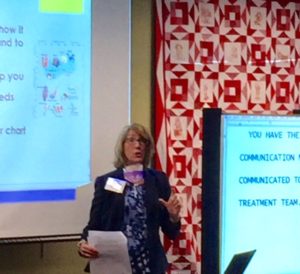 Valerie Stafford-Mallis presentation was filled with examples of failures, successes and plenty of humorous situations. The key is to "Plan Ahead" with an effective communication access plan (CAP).
Materials to assist you and carry out a CAP have been placed on the HLAA National website at http://www.hearingloss.org/content/health-care-guide.
APRIL CHAPTER MEETING RECAP
Debi Moser, the Cap-Tel Outreach Representative, spoke about technical improvements in caption phones. The 880i (on left) is demonstrated by Flo Innis and the 840i (middle) as shown by Richard Pocker were the prior generation of CapTel phones.  
Debi is holding the 2400i, the new Bluetooth phone that allows you to not only use it wireless throughout the home, but away from home wherever Wi-Fi is accessible –Wow!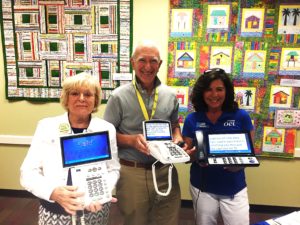 Our President, JoAnne DeVries, brought us up to date on Chapter events as always.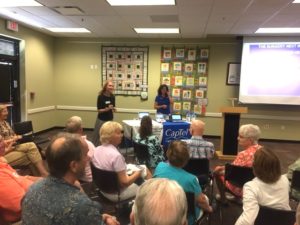 MARCH CHAPTER MEETING RECAP
Lynn Rousseau is a longtime HLAA advocate whose desire is to make travel easier, safer and more enjoyable for those of us who cope with hearing loss. Her well-received presentation was entitled "Traveler's Rights".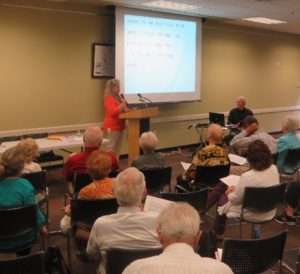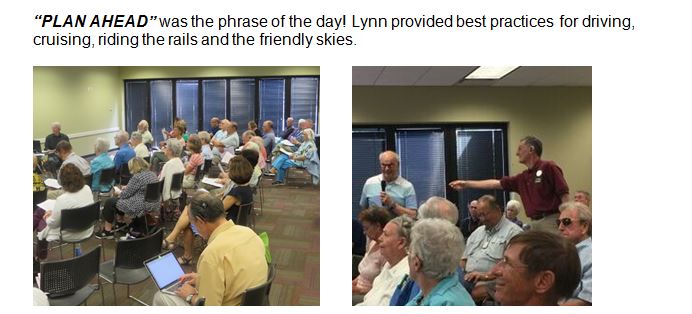 She recommended a card to hand a police officer if stopped, as well as a visor card for paramedics to see to know there may be difficulty following commands.  The cards can be downloaded at http://hearinglosshelp.com/shop/category/visor-cards/.
 The website for these and other aids is http://hearinglosshelp.com.
 Lynn explained the importance of alerting train conductors and flight attendants early — and with a smile — to avoid frustration and missed announcements.
 Chapter members had many questions as well as personal experiences to share!
FEBRUARY CHAPTER MEETING RECAP
Dr. Kyle Allen is an Otologist and Neurotologist with the Tampa Bay Hearing and Balance Center in Tampa.                        
His presentation was "What is New in Hearing Aid and Cochlear Implant Technology".

Dr. Allen talked about the difficulty of hearing in noise and explained the design and purpose of devices such as a remote microphone, the Roger Pen, and directional microphones.
He also traced the history of research on regeneration of hair cells.
Dr. Allen spoke of a new procedure called an "Ear Lens" and how it can increase the HZ range. He spoke about the procedure of achieving a mold on the eardrum and using a 3D printer for an exact fit.
He surgically implants all three brands of cochlear implants and explained the advantages and limitations of MED-EL, Advanced Bionics and Cochlear Americas. These differences involved MRI ability, wireless sound, compatibility with hearing aid and what the FDA has approved or delayed.
There was an extended Q and A session that continued after the meeting.              
It was great to see so many of our northern friends back with us. We had an attendance count of over 50.
JANUARY CHAPTER MEETING RECAP
"Aural Rehabilitation" was a most informative presentation!

Karalee Needelman, Cochlear Implant Consumer Specialist with Advanced Bionics, spoke about how improved auditory skills can enhance emotional health, reduce isolation and expand options in education, social life and work. She provided tips and resources for comprehension, identification, discrimination and detection as part of "re-learning to listen".
It was great to see some of our northern friends back in attendance.  We had an attendance count of over 50!
DECEMBER CHAPTER MEETING RECAP
Our annual HLAA Chapter Holiday Party was a blast featuring comedy by Anne Taylor and holiday songs by Connie Bulawaka and Julie Dadekian …and a great holiday spread for a holiday feasting!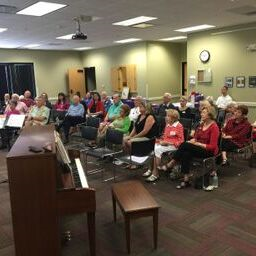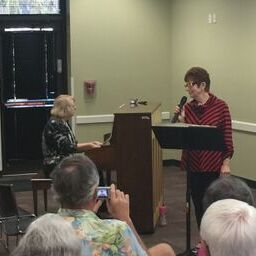 NOVEMBER CHAPTER MEETING RECAP
Kris Adams, the Sarasota County Sheriff's Operations Manager in charge of the Professional Development section (911 Training), addressed the Chapter at our November meeting.
She manages, supervises and coordinates new recruit training, cross training, continuing education, public education and quality assurance for the 911 center.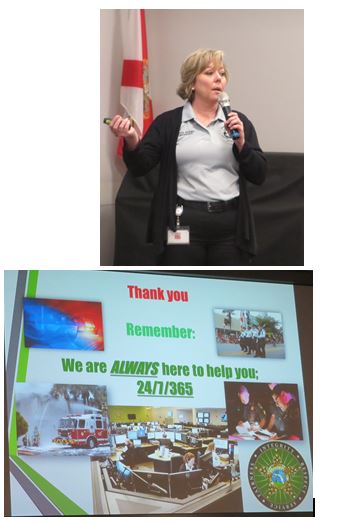 Kris took us through the duties of a dispatcher, and those in attendance agreed they could not last a week with the stress of the 12-hour shifts. Kris advised they handle 261,000 emergency calls and 340,000 non-emergency calls each year.
She talked about the fallacy of cell phone location. It is not GPS, its cell tower, so it's important to advise of your location when calling 911. Kris also mentioned all the calls they get from New York, California and elsewhere as VOIP (voice over internet) phones transmit the customer's input address rather than a location. She demonstrated the new 911 text system, including the sometime delays that will occur.
The meeting was very informative and a learning experience for all.
OCTOBER CHAPTER MEETING RECAP
The Chapter had a fine turnout of over 50 members and guests to hear HLAA-S/M Trustee, Mark Selis of All Ears Hearing Services, speak about "Truth in Hearing Aid Advertising".


Mark's presentation covered a lot of the ins and outs of the industry and raised some ethical questions about representation in the many full-page ads we see in our local newspapers. Come-ons like free lunches, hearing aids for low decibel loss, "white coats", non-label hearing aids and much more were discussed. A lively question and answer period followed.
SEPTEMBER CHAPTER MEETING RECAP

President JoAnne DeVries opened the meeting with announcements of upcoming events.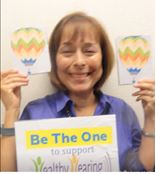 Kathy Combs, our program chair, introduced members who attended the June HLAA Convention in Washington DC.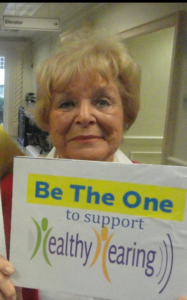 Flo Innes highlighted a number of assistive devices promoted at the Convention.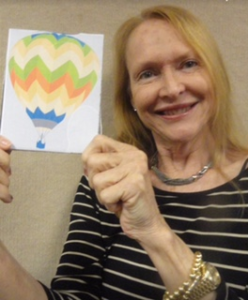 JoAnne DeVries updated us on looping initiatives discussed at the Convention.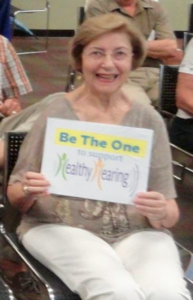 Barbara Chertok spoke about the International Federation of Hard of Hearing People who co-convened with HLAA.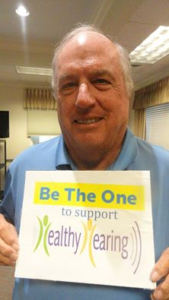 Richard Williams summarized the FCC's progress with captions under the CVAA.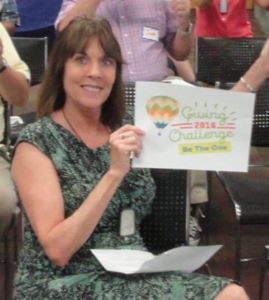 Pat Lakey, the 2016 Scholarship recipient, summarized the outstanding Convention experience as well as the hearing comfort of the HLAA Convention.
JULY and AUGUST  CHAPTER MEETING RECAP
The Chapter had a good turnout for summer–over 30 at each session. There were lots of good questions, many regarding cochlear implants at the July "Rap Session".
In July, Derek Hart of Connect Hearing spoke of some of "new" innovations in Hearing aids. Next generation of Oticon is due out soon, within 3-6 months. Also, new hearing aids with re-chargeable batteries are coming to market. Big news since batteries get expensive after a while and it seems like you always need to buy more.
He also emphasized that once you get the C.I.'s, there is NO going back. So, while it is the only option for many, if hearing aids still provide some measure of improvement, it may be a good idea to keep using them.
In August, Ashley Cambin-Toole of Adept Hearing spoke about hearing aid issues and this brought about many technical questions from the active Chapter participants with subjects ranging from best brands with cochlear implants to solving communication issues.
Program Chair Kathy Combs ably assisted the discussions this summer.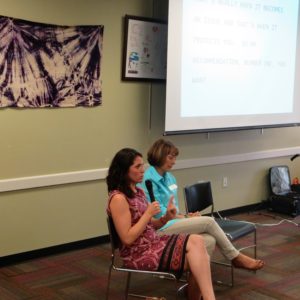 JUNE CHAPTER MEETING RECAP
The combined meeting on June 14 was a great success with a full house and a great program.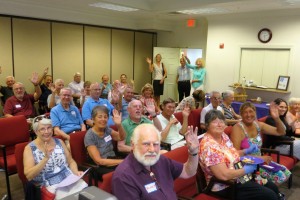 The topic was "Why Don't Hearing Aids Work?"
The presenter was Ashley Camblin-Toole, a Licensed Hearing Aid Specialist. Ashley has been in the hearing industry for 12 years and has been a lifelong hearing aid user.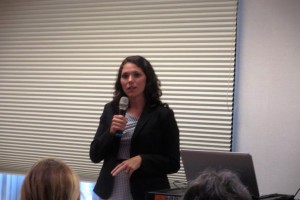 Three decades of wearing hearing aids has provided her with invaluable experience and the ability to help many people with their hearing issues.
She spoke about the three categories that lead to a successful hearing aid user, the hearing aid professional, the hearing aid and the hearing aid user, you.
She pointed out that the professional should be licensed and experienced and for the best results, a private practice offering a full hearing evaluation and clear return policy
She discussed types of hearing aids, the individual selection related to style, the price and the user's lifestyle. She further talked about background noise and clarity matters that affect each user.
She went over auditory exercises to keep the brain trained, the need to wear the hearing aids all day in all environments
After the presentation the questions kept coming for half an hour. It was pretty clear our members are well educated about hearing aids as the questions raised many technical and medical issues.
The next "After Hours" will be September 13 at 6:00 PM.
MAY CHAPTER MEETING RECAP
Beth Reckord a Speech-Language Pathologist presented "It Takes Two to Tango! Or does it when it comes to Listening?"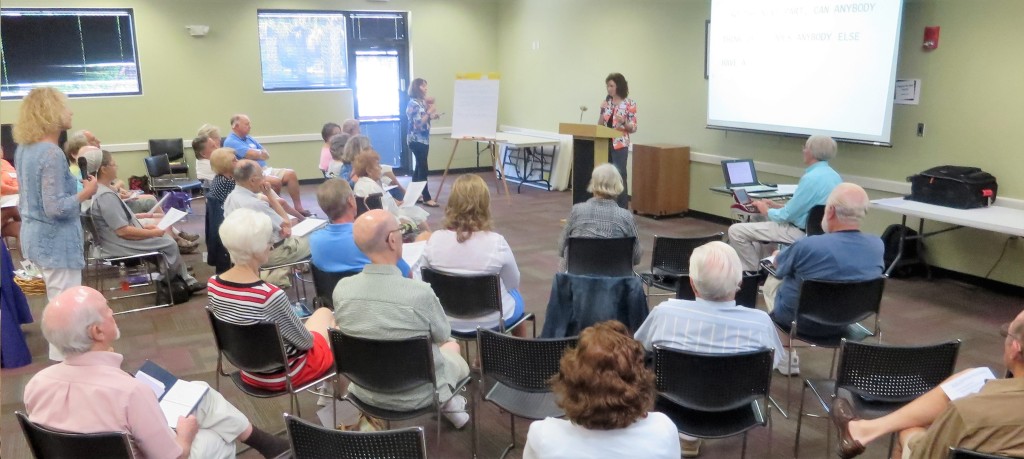 Beth discussed strategies and exercises to improve listening ability. She suggested working with a practice partner as the best way to improve skills. She also recommended a number of apps as well as use of audio books. The presentation was interactive and well received by the 40 members in attendance.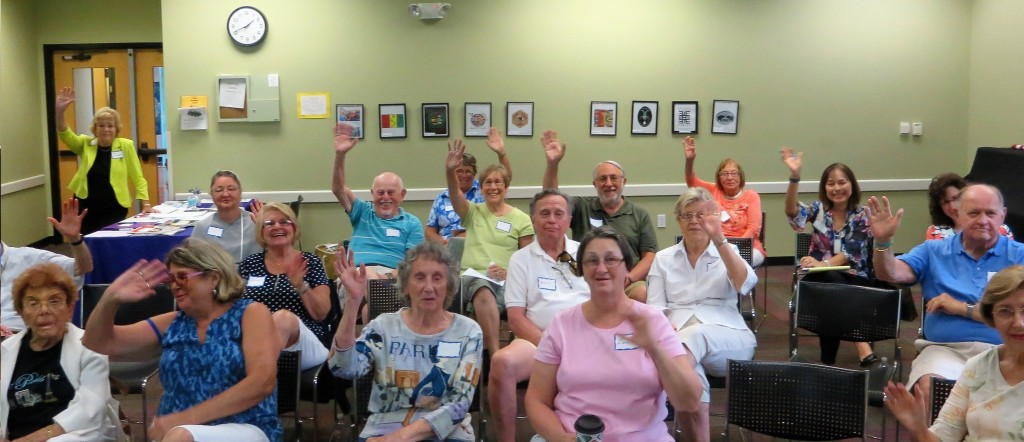 APRIL CHAPTER MEETING RECAP
The April meeting was a presentation about hearing loops by Jim Scott of Complete Hearing. The topic was "Hearing Loops — How and why they work and why they sometimes don't".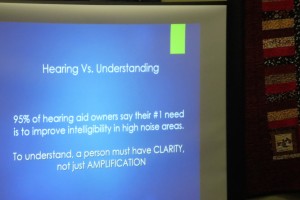 Jim's presentation included the issue of how our hearing is affected by background noise and why the hearing loop is superior to other assistive devices such as FM and infrared sound transmission. He talked about how simple the loop installation is—an amplifier to take any electronic sound (microphone, TV, stereo, etc.) through a wire that is laid about the perimeter, usually in an array, to the receiver—which you already have, your telecoil.

Our Chapter members were most attentive and had many questions. The concept of a personal loop system at home or a car chair pad loop system was new to some and our group was intrigued by these ideas. 
The elimination of background noise and reverberation by use of the telecoil was the receiver of sound from a looped system is a great enhancement to quality of life and one new member was amazed by using the loop system for the first time at the library's meeting room.

February 2016 Chapter Meeting Recap
The Chapter provided a unique opportunity to assist members in knowing their rights as well as advocating for themselves and others.
Members of the New York City law firm, Eisenberg and Baum (www.eandblaw.com)
came to our meeting from New York to present "Know Your Rights and Empowerment".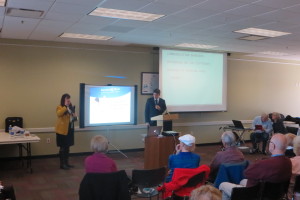 They are board members of the Law Center for Deaf and Hard of Hearing and advocate daily for workplace accommodations, captions, public accommodation and much more.
Sheryl Eisenberg Michalowski, Deaf Rights Liaison/Co Director who is deaf, explained the mission of the Center as well as her background of advocacy in a hearing world.
Eric Baum Co-Owner/Co Managing Partner, explained the law firm's guiding principal of policy change in its litigation practice rather than just compensation recoveries.
Andrew Rozynski Esq., Deaf Rights Attorney/C0- Director took the Chapter members through the four titles of ADA and explained how to document and advocate for change.
The questions from our members to these outstanding advocates continued after the allotted time for the meeting.
February 2016 Meeting for Our Venice Members

A fine showing of over 50 Venice and Englewood attendees turned out at the Jacaranda Library for the February 3 HLAA-Sarasota/Manatee meeting (in fact, standing room only)! The presentation was "How To Improve Relationships Through Better Hearing" presented by Virgi Mills, M.E.D., Consumer Outreach Manager with MED EL
Rapt attention was given to hearing strategies and the art of listening. Lots of questions were answered.
January 2016 Chapter Meeting Recap
The Chapter kicked off 2016 with 80 plus members filling the room for Dr. Jack Wazen's presentation at the January 13 Chapter meeting.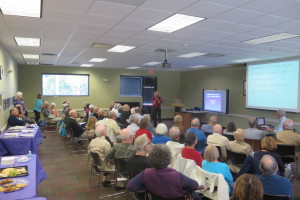 Dr. Wazen discussed the merits, limitations, costs and criteria for fully implantable and partially implantable hearing devices. He explained how hearing aids can have issues of occlusion, feedback and sound quality for some as well as stigma. He discussed in depth such devices as Envoy Esteem, Maxum and Baha.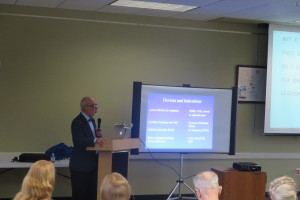 December 2015 Chapter Meeting Recap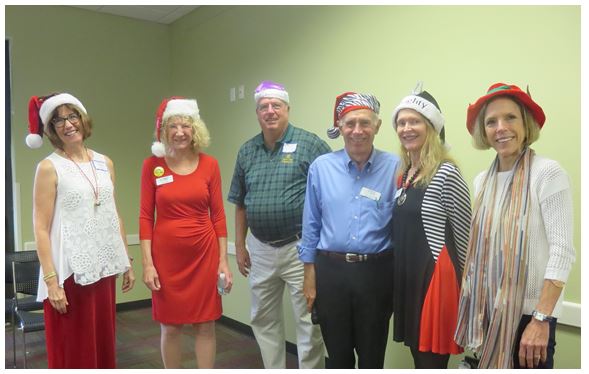 Board members Valerie Stafford-Mallis, Anne Taylor, Richard Williams, Dave Donnelly, JoAnne DeVries and Maria Anderson greeted the members to the annual Holiday Party. Anne discussed the approach to take with the loud season and trays of goodies were in abundance.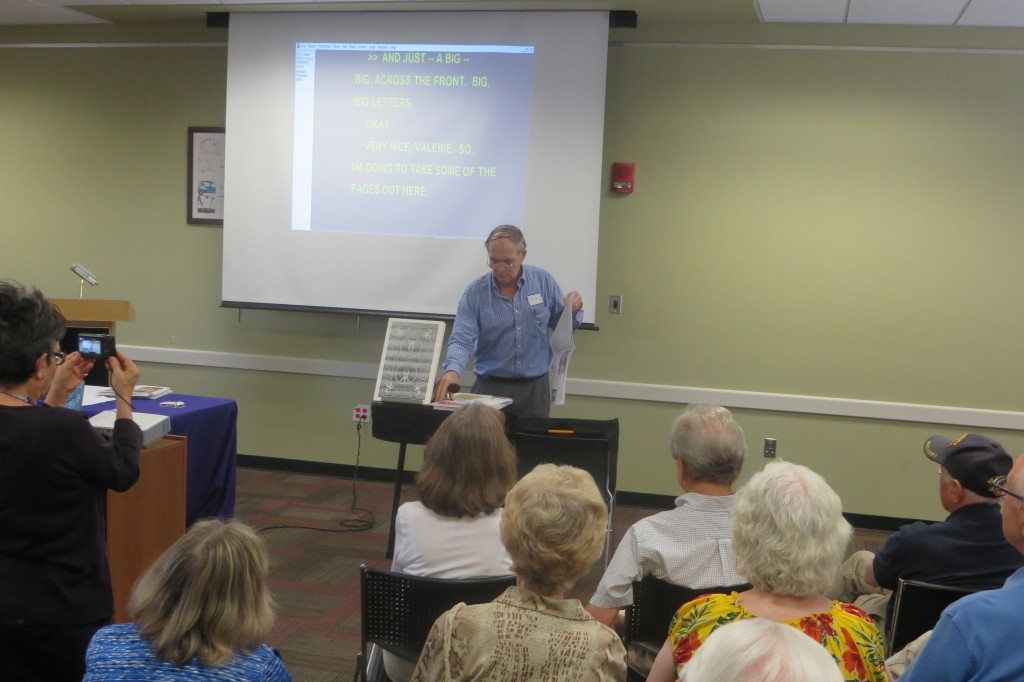 Magician Don Majo told stories and totally mystified the 50 members in attendance with a style that is described in magical circles as parlor magic. It was enjoyable, humorous and quite visual. The presentation was centered on the fun of magic.
November 2015 Chapter Meeting Recap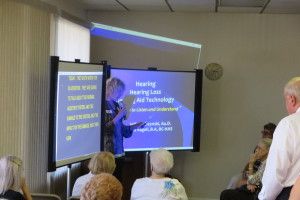 Chapter Mentor Anne Taylor spoke about Membership and Chapter Club in the L shaped and crowded room
Due to the North Library closure for the Veterans Day holiday, the Chapter meeting was held in Venice at the CCDHH storefront facility. Attendance was likely in excess of the Fire Marshall's limits but chairs were set to accommodate all.
Julia Nagel, HAS and Jeffrey Lezynski Au.D. from the Silverstein Institute put on an informative presentation "It's Time to Listen and Hear". Dr. Lezynski outlined the process of hearing and addressed myths of hearing loss as well as causes of hearing loss and consequences of hearing loss. Julia updated the Chapter members and guests about all the new technology and choices that each patient has to consider. A number of questions and answers followed
October 2015 Chapter Meeting Recap
Dr. Ryan Wargo was the guest speaker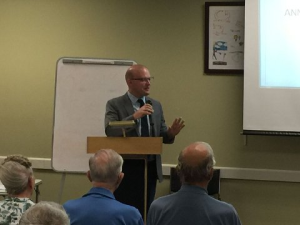 Dr. Wargo, a Clinical Assistant Professor at the LECOM School of Pharmacy, stated that there are some drugs that are particularly toxic to the ear and can produce tinnitus and temporary deafness. Dr Wargo shared a handout listing some of them. Any person taking a prescribed medication should be alert for hearing-related problems while taking the drug and report such problems as soon as they appear to their family physician.
There may be times when an ototoxic drug is appropriate. For example, if not using that particular drug might have more serious consequences than hearing loss or deafness, then you might want to weigh that alternative and discuss with your physician.
Members and guests found the information most informative and the refreshments, as always, a nice accompaniment to the meeting.
September 2015 Chapter Meeting Recap
Special Venice Chapter Meeting Recap
A special meeting for members and friends from the Venice area was held on August 26. The venue was the Community Center for the Deaf and Hard of Hearing. A full house was on hand to hear Blair Post of Contemporary Hearing speak about living well with hearing loss.
July 2015 Chapter Meeting Recap

A tuned in group of Chapter members were on hand at the July 8 "Rap Session". Our President JoAnne DeVries and peer mentor, Joan Haber led a discussion on choosing a hearing aid provider. Choices include ENT/Audiologist team, an Audiologist, and a hearing aid dispenser—pros and cons were reviewed. The benefits of the telecoil for looping along with Bluetooth and FM innovations were covered with the understanding that all are needed to achieve a quality of life with hearing loss. The discussion moved to new technical products including the Roger pen (the Chapter has three for loan and testing feedback purposes). In addition there was an update on the Publix initiative including ongoing face to face meetings with all 40 Publix store managers in our two county area.
June 2015 Chapter Meeting Recap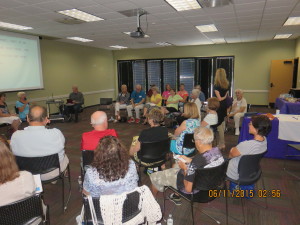 A lively group of Chapter members were on hand. Our President JoAnne DeVries and peer mentors, Joan Haber and Anne Taylor led discussions covering assistive listening devices, communication tactics, EXPO, Looping/Publix, cochlear implants, hearing aid prices, —a little bit of everything. It was a great Rap Session. Members and were very enthusiastic and sharing.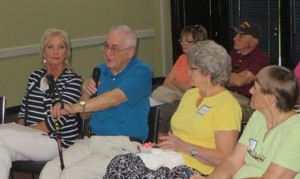 May 2015 Chapter Meeting Recap
How a Speech Pathologist Can Improve Your Hearing and Communication
Our speaker was Jennifer Hansen, MS, CCC/SLP. Jennifer is a speech-language pathologist working with both geriatric and pediatric populations in Sarasota and Manatee Counties. She addressed strategies for hearing aids users, ways of increasing communication effectiveness, managing conversations and also spoke about assistive devices.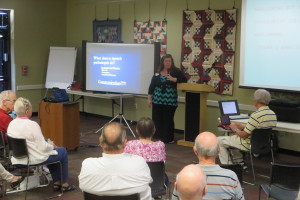 Our 45 members in attendance were amazed at the revelation of the "5 minute rule". The advice could equal the price of a membership over the year. Here it is:
When you need to use new batteries, tear off the tab on the back and wait five minutes before putting them into your hearing aids. This will allow the battery to gain a full charge via exposure to the air. Jennifer said that the battery will last 80% longer by doing this!