TAKE BACK YOUR LIFE WITH A MEMBERSHIP – OR GIVE A GIFT MEMBERSHIP!
The Sarasota/Manatee Chapter and HLAA Dual Membership is the holiday bargain of the year!
HLAA of America gives back all year long–
• Provide timely and reliable information about hearing loss through HLAA's website, Hearing Loss Magazine, HLAA e-News, the Hearing Loss Support Specialist Training, message boards/chat forums and the HLAA Convention
• Advocacy at the national level to affect legislation that impacts people with hearing loss, whether it's funding for hearing aids, cochlear implants, communication access in public places or other important issues
• A nationwide network of chapters and state organizations providing peer support
• Support for parents of children with hearing loss at www.kidsandhearingloss.org
• Outreach to veterans returning with hearing loss
Our Chapter and its volunteers give back every month
• Captioning and hearing assistive technology at HLAA chapter meetings to make them accessible
• Scholarships to the National HLAA Convention
• Free membership and programs for Veterans
• Installation of loops in public places, such as theatres, community rooms, Publix and public libraries
• Seminars on coping with hearing loss for yourself and families
Membership applications can be found at the Chapter website, http://hlas.org/ and a gift of HLAA membership at — https://17291.thankyou4caring.org/sslpage.aspx?pid=410
MEMBERSHIP NOTE  – RENEWALS AND NEW MEMBERSHIPS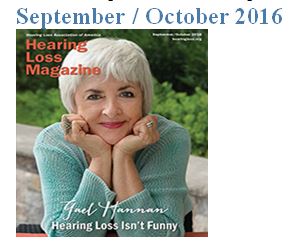 Our memberships are dual memberships in both the HLAA and the HLAA Sarasota/Manatee Chapter.
Veterans are free for the first year!
Our Chapter recognized that a national membership and a separate chapter membership were a little cumbersome so we ran a pilot program with one combined membership.  This was so successful that HLAA in Bethesda is now rolling out the "Unified Membership Program" for more and more chapters. The Chapter gives up some needed funds for meeting budget BUT works hard at asking our members to contribute to The Giving Challenge and the Walk4Hearing  that we can better inform, advocate, and educate the community about hearing loss.
Join now and get the HLAA "Hearing Loss Magazine". Keep up with the technology!
The cost is $35 for an Individual membership, $45 for a Couple. .
Among the many functions of HLAA National is the lobbying for people with hearing loss to have equal access in public venues. Note—your renewal notices will come from HLAA in Bethesda–if you do not get one, please let us know.
By the way, the Chapter receives free tickets to the Players Theatre, which has a hearing loop to help you hear better, and $10 Van Wezel (one of the largest looped theaters in the nation) tickets to one or two events are worth the membership fee. Also, members receive 20% off the assistive and communication products sold by Harris Communications — https://www.harriscomm.com/
If you have any questions on Membership please feel free to contact Anne Taylor at http://membership@hlas.org/ . Membership applications can be found at the Chapter website, http://hlas.org/
For a HLAA Professional Membership application, Click here