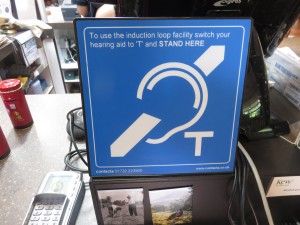 Chapter Member Doug Schuler saw this sign in the gift shop at the Royal Botanic Gardens in London.
Wouldn't it be great if every checkout point in the U.S. was looped?
We have two Publix stores (Longboat Key and Venice Commons) and a lane at Whole Foods looped here in Sarasota County—it's a start!
If you are travelling and see the loop sign, send it to your Listen Up editor at RNW1976@aol.com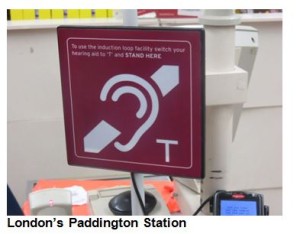 For new readers, the telecoil and looping are explained ahead:
What is a Hearing Loop?
A hearing loop is a wire that circles a room and is connected to a sound system. The loop transmits the sound electromagnetically. The electromagnetic signal is then picked up by the telecoil in the hearing aid or cochlear implant.
To use a hearing loop, you flip on the t-switch on the hearing aid or cochlear implant to activate the telecoil. Usually, no additional receiver or equipment is needed. Using a telecoil and hearing loop together is seamless, cost-effective, unobtrusive, and you don't have to seek additional equipment. Hearing loops are also called audio-induction loops, audio loops, or loops. If your hearing aid doesn't have a telecoil, you will need a headset plugged into a loop receiver to achieve the same effect.
Find out more at http://www.hearingloss.org/content/loop-technology
What is a Telecoil?
A telecoil in a hearing aid functions as a wireless antenna that links to the sound system and delivers customized sound to the listener. A telecoil is a small copper coil that is an option in most hearing aids and is built into cochlear implant processors. Telecoils also known as t-coils and were originally used to boost the magnetic signals from the telephone handset. The telecoil is activated by a t-switch. All landline and some cell phones are designed by law to be used with a telecoil.
The telecoil can make a noticeable difference in your life when combined with hearing assistive technology such as the hearing loop. This pairing of technology bridges the space between you and the sound source. The hearing loop connects the listener directly to the sound source while most of the background noise is eliminated.
If you are buying a hearing aid for the first time, be sure to ask that a telecoil be included. With a telecoil you can expand the functionality of your hearing aid or cochlear implant.
Local Venues with Hearing Loops
Traveling in 2015?    Stay in the loop.
Click on the Loop Locator Link to find looped venues
Remember the HLAA Mission includes advocacy—and a "thank you" goes a long way in reinforcing the looping of the community
120+ Looped Venues in Sarasota and Manatee Counties – Click here for Loop Locator 
Sarasota, Bradenton and Venice are the first cities in the US to have a majority of their theatres looped. Van Wezel, Player's Theatre and the Sarasota Orchestra are all currently looped.
Let's Loop SRQ! is our advocacy effort to get Hearing Loop Systems into local public venues to increase access for the 145,000 people in Sarasota and Manatee Counties with hearing loss.  We account for 16.1% of the local population and our incidence is the highest in the nation.
This is the official sign designating a venue that has a Loop System. Note the capital white  "T" in the lower right corner. This designates a system that sends the sound directly to a T-Coil, a tiny wireless receiver that the hearing aid must have to receive the sound.
HLAA Hearing Loop Campaign – Loop Resources
Auditory Listening Training – click here 
HLAA Loop Campaign – click here
How Hearing Loops Work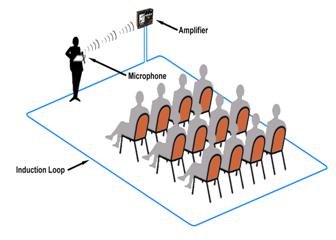 The Hearing Loop System is the only system that sends clear, superior sound from a microphone directly into a hearing aid or cochlear implant without interference.
Hearing Loop Systems are the ideal solution for people who wear hearing aids or cochlear implants to hear better in theateres, churches, banks, restaurants and so many other public places. A hearing loop is the only system that sends the sound of a voice or instrument  from a microphone directly into a hearing aid or cochlear implant for the clearest, most superior sound currently possible. Popular for over 40 years in many European  cities, the system is starting to take hold in the U.S.
Hearing Loop Systems are very affordable and require no maintenance. The system simply entails an amplifier that is hooked up to an existing microphone or sound board that connects to an induction loop which is placed around the perimeter of the theatre, meeting room or area where an audience or congregation sits. The magnetic field created projects the sound directly to a T-Coil, a wireless receiver that acts a loudspeaker inside a hearing aid.
Most hearing aids come equipped with a T-Coil which is shown in the picture in the next section. If you have never used your T-Coil, see below.
How to Use Your T-Coil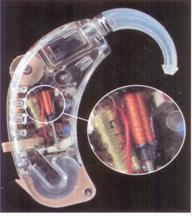 It is estimated that 70% of hearing aids in use today have a T-Coil. Nearly 90% of all new hearing aids come equipped with one. The primary exceptions are the tiny aids, especially the all the way in the ear models. which do not have the space for one. A good rule of thumb to remember is overall hearing aid performance increases with the aid size.
Most T-Coils are accessible by flipping a switch on your hearing aid. In a few cases, the T-Coil is automatically engaged in the presence of a hearing loop system. In some other cases, your audiologist needs to activate your T-Coil bfore you can access it.
If you have never used your T-Coil, we recommend seeing your audiologist to confirm you have one and to learn how to engage it. If your aid doesn't have a T-Coil, talk to your audiologist about adding one.
Once you have access to your T-Coil, we suggest coming to one of our monthly meetings where we always have a Loop System to support the speakers.
Local Venues with Hearing Loops
120+ venues have been looped in Sarasota/Manatee–click on Loop Locator Link
Great Article on T-Coils
 When I Say I Want Telecoils by Gael Hannan – Click HERE