Complimentary HLAA Membership for Veterans
HLAA-Sarasota/Manatee Chapter is honored to offer two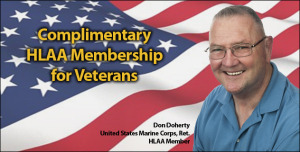 types of membership for United States veterans (both include the other benefits of Individual membership):
Digital Membership – this complimentary membership includes our award-winning Hearing Loss Magazine in digital format only; or
Non-Digital Membership – Hearing Loss Magazine will be delivered right to your mail box; complimentary for one year, renewal at $35/year.
If you are a veteran and are interested in joining HLAA please complete Veteran Membership form and mail it, fax it or email it in.
Free HLAA Convention Registration- come see us in St. Louis in 2015!
HLAA would like to show its support of veterans attending by offering a convention registration at no charge. For more information about registering for HLAA's annual convention, contact the Director of Events and Marketing.
Must Read
· Suivez Moi: A Leader in Every Right by Barbara Kelley
"Suivez Moi," is about Mark Brogan, a war hero comes home from Operation Iraqi Freedom with a Purple Heart, a traumatic brain injury, and hearing loss. Where does that leave him now? He and his wife, Sunny, tell their story.
· Mark Brogan Interview on NBC News