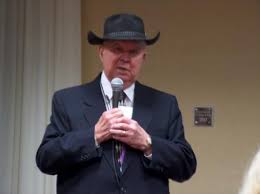 Howard E. "Rocky" Stone, HLAA's Founder.
To celebrate Rocky and the 35th birthday of the Hearing Loss Association of America, our Chapter remembered Rocky and got to know his legacy.  Here is a quote from the May/June Hearing Loss Magazine in 1992
"Where am I on the scale of happiness? What am I doing with my life? Whatever pain hearing loss causes an individual, being a member of HLAA brings increased hope. Without hope, little is left with which to answer the questions above. Happiness is reached through a combination of circumstance, and physical and mental attributes. (Believe it or not, money won't do it.) HLAA helps by giving you options, by showing how you can improve your life with a hearing loss, and, very importantly, by bringing you into contact with role models and others with hearing loss.
Rocky Stone
May/June 1992
In his book, "An Invisible Condition, The Human Side of Hearing Loss", Rocky wrote: "the most pervasive physical handicap in America today is an invisible condition – hearing loss". 
For more on the founder, see http://www.hearingloss.org/about-us/founder
In his book, "An Invisible Condition, The Human Side of Hearing Loss", Rocky wrote: "the most pervasive physical handicap in America today is an invisible condition – hearing loss".
Howard E. "Rocky" Stone
Founder of Self Help for Hard of Hearing People (SHHH)
Read Rocky's book: An Invisible Condition: The Human Side of Hearing Loss
Biographical Information
Howard E. "Rocky" Stone was born in 1925 in Cincinnati, Ohio. He began working at an early age to help support his mother and two sisters during the Depression. During World War II military service at age 19, a nearby explosion resulted in a bilateral hearing loss. Following military discharge, he attended the University of Southern California, where in 1949 he earned a degree in International Affairs. He then won a scholarship to the Johns Hopkins School of Advanced International Studies, but did not complete the program because his hearing loss precluded him from taking the oral exams.
Recruited by the Central Intelligence Agency, he spent 25 years in federal service with assignments to half a dozen Near and Far East countries. On retirement in 1975, he received the agency's highest award, the Distinguished Intelligence Medal.
Because there were no services for hard of hearing people, Rocky founded SHHH in 1979, serving as its volunteer executive director until 1993. Having overcome the challenge of childhood poverty and a profound hearing loss, Rocky believed in the ability of individuals to help themselves; "I established SHHH as a membership organization run by people with hearing loss. We provide information necessary for them to make choices, but emphasize the choice must be theirs. The challenge is to develop togetherness within diversity."
The growth of SHHH was phenomenal. Within four years, the membership grew to almost 6000. By the end of 1984, there were 122 SHHH chapters. Today, SHHH is the premier consumer organization for people with hearing loss. The SHHH mission is to open the world of communication to people with hearing loss through education, advocacy and support.
Mr. Stone served as founding member, volunteer, consultant and elected chair of various national organizations and committees dedicated to meeting the needs of people with disabilities, particularly hearing loss. In 1988, he was appointed by President Reagan to serve on the Architectural and Transportation barriers Compliance Board ("Access Board"), which drafted the accessibility guidelines for the landmark Americans with Disabilities Act of 1990. In 1990, he was appointed by the Secretary of Health and Human Services to the advisory council of the National Institute on Deafness and Other Communication Disorders at the National Institutes of Health. He was awarded an honorary doctorate degree form Gallaudet University where he served on the board of the Gallaudet Research Institute.
Following retirement in 1993 as SHHH's first executive director, macular degeneration greatly impaired his sight. A cochlear implant in 1994 gave him better hearing. He liked to say, "I have only lost my sight, not my vision." Despite his disabilities, he served four years as president of the International Federation of Hard of Hearing People, was a member of the board of directors of Hearing International, and the Cochlear Implant Club International, and founded the organization Teamwork, Inc, to promote cochlear implantation.
Rocky Stone whose love of and compassion for people knew no bounds died on August 13, 2004 of complications from pneumonia.