GUEST COLUMN – MEANDERING THROUGH A HEARING WORLD 
LINDA BILODEAU, a friend of the Chapter from Bonita Springs, shares her hearing experiences of coping with a profound hearing loss for over 40 years with the HLAA Florida State Chapter website. Her articles will appear in on a regular basis.
Sometimes We Need Hearing Help
Anyone suffering from hearing loss will agree that listening to conversation in a busy restaurant or bar, amidst a chorus of voices and environmental noise, is exhausting, and at times, impossible. Most hearing aids and cochlear implants have some built-in noise reduction capabilities. Yet, these settings are often insufficient, especially for those suffering from a severe or profound hearing loss.
Enter Bluetooth-enabled mini microphones. These devices work much like hearing loops in that they bring the voice of the person speaking closest to you directly into your aid or implant, sans background noise. All hearing aid and most cochlear implant manufacturers have versions of these devices. Signia, Widex, and Oticon have mini mics that also act as a bridge between blue-toothed enabled android phones and non-Apple computers. Phonak, Resound, Starkey, and Signia have mini microphones designed for one-on-one conversations and others for use in groups. Cochlear and its hearing aid partner, ReSound, have a number of hearing-in-noise solutions. Advanced Bionics, partnered with Phonak, makes use of the Roger devices, designed for both singular and group conversations.
MED-EL implants have built-in noise-reduction capabilities. The wearers of these devices change settings as they move from quiet into noise.
My first mini mic came with a pair of ReSound Lynx Hearing aids. Since, I have switched to Oticon S hearing aids and ConnectClip. ConnectClip works best with one-on-one conversations and with the device attached to the speaker's shirt or blouse or worn necklace-style.
Probably the best use of ConnectClip is in restaurants and bars. My mini mic has a volume control and an environmental sound reducing feature. In groups of more than two, I can set the device on the table and move it closest to the speaker.
Most people suffering from hearing loss rely on speech reading. During the coronavirus outbreak, I'm finding my ConnectClip handy when encountering masked store clerks, cashiers, doctors, audiologists, and other professionals. Prior to going into a store or a medical office, I clip my device to my blouse and change the setting on my iPhone app. At a recent appointment, ConnectClip made it easy to hear my female physician's comments and instructions.
When attending lectures or church services in buildings without a hearing loop, one might use a mini mic. Before a speech or church service begins, you can ask the speaker to wear the device. My ConnectClip has a 65 foot range. If I'm seated close to a podium, I can hold up the device and catch the speaker's words. However, far better hearing results are achieved when the speaker wears the device.
Though it is not perfect, ConnectClip is a handy hearing accessory, one that I recommend. Such devices cost between $200.00 and $400.00 dollars. Sometimes, mini mics are included with the purchase of new hearing aids or cochlear implants. Often, there are opportunities to try-out hearing accessories for thirty days without charge.
Unfortunately, mini mic accessories are unique to a manufacturer. Further, a manufacturer's mini mic may only work with a specific aid or implant, thus necessitating a new accessory if you purchase new aids or change the external hardware of an implant. Before investing in accessories, it is best to consider your lifestyle needs now and in the future. As we meander through the hearing world, know that there are available solutions for your hearing problems. Let your audiologist or hearing professional guide you in deciding whether an accessory will help, given your hearing needs.
A Hearing Distraction in the Midst of a Pandemic
What if everyone in the world recognized the needs of those suffering from hearing loss? What if everyone with hearing problems had the tools to help them hear? What lovely thoughts. My hopes for this kind of world soared after I read an article in the Wall Street Journal about how closed captions have become a hit with TV viewers who hear normally.
According to the author of the article, people with normal hearing are turning on captions on their electronic devices and televisions regularly. Some discovered captions by accidently hitting their CC buttons on their remotes while others became acquainted from living with someone with hearing loss.
People without hearing loss have different uses for captioning. Viewers of movies, series, and television programs are finding captions helpful in understanding dialogue, especially when characters speak with foreign accents or local dialects. Many realize that reading captions is easier then rewinding and reviewing a scene when they missed the dialogue. Some viewers claim that reading captions adds to their understanding of character motives and gives them a more rounded idea of theme. The article further stated that people use captions when they want to lower their television's volume in order to avoid waking a sleeping child or spouse. Who would have guessed that captions took so long to come about and go mainstream?
Some folks interviewed in the article admitted that it isn't easy getting used to captions as hearing and reading require different parts of the brain. I remember this to be true when I first started using captioning back in the 1990's. At the time my word recognition scores had taken a dive. Cranking up my TV's volume button was no longer working for me. Like most people with sensorineural loss, louder was not better. After the ADA and Television Decoder Circuitry Acts were passed into law, my parents purchased one of the original decoder boxes for me and installed it on my television. What a miracle I thought. It took me about a week to get used to hearing by reading captions, but in the end, I thanked my mother and father profusely for once again opening up television to me.
For me, having a profound hearing loss means I cannot view TV programs or any of my favorite streaming series without captions. The widespread use of captioning in the entertainment world, for telephones, voice messaging, and for teleconferencing has allowed me to participate in life in ways that otherwise wouldn't be possible. My closed caption button is always on. My husband hears normally and doesn't mind the captions rolling across our viewing screen. He tells me that captions fill in the blanks when dialogue is fast paced.
Could the upswing in the popularity of closed captions be the beginning of a better understanding of how people with hearing loss need and use technology? Time will tell. As we shelter in place, and as more and more of us turn to television and streaming for entertainment, perhaps this is the time to introduce the idea of closed captions to our friends and family. Let's encourage them to try it out. Let's help others understand hearing loss and what it takes to hear. As we meander through the hearing world, we might find that the technology that improves our ability to hear might be made more readily available.
HLAA'S HUMORIST GAEL HANNAN DESCRIBES HER BATTLE WITH THE PANDEMIC MASK 
Me vs. The Mask: A Pandemic Hearing Problem
Gael Hannan
As we crawl our way through this global pandemic, I understand the need for masks. But that doesn't mean I have to like them.
People with hearing loss are not good at masked communication because it cuts off vital information we get from lipreading. Before the pandemic, my suffering was limited to trying to understand a mask-wearing aesthetician giving me a pedicure. Now, masks are everywhere.
I decided it was time to do my bit to plank-the-curve and start wearing a mask, partly because it's now a recommended practice and partly because of that other virus going around – a nervous distrust of people who may not be following the pandemic safety rules, therefore putting the rest of us at risk. Besides, how hard could it be to wear a mask?
Perfect timing – a kind neighbor had been making masks for the local community. We took a couple of her free, sterile, and packaged masks with us when we went shopping for supplies. The Hearing Husband decided to wait in car and catch up on the news while I shopped. But first I had to put on my new and very bright green mask.
I hooked the elastic holders over my ears and discovered the mask wasn't quite wide enough. My pinnae (the flappy part of the ears) were pulled forward over my earholes, causing the behind-the-ear part of my hearing aid to pop out and dangle beside my head. I tried to stretch the mask a bit wider, but it popped up over my eyes, momentarily blinding me. The Hearing Husband kept checking messages on his phone, ignoring my frustration in the seat beside him, as well as my running narrative that was rapidly turning the air blue.
Patience is not my best quality. I yanked out my hearing aid and put it in the glove compartment, hooked on the mask as best as I could and marched into the store, with my ears were still folded in half. I was keenly aware of my odd appearance; the bright green mask, coupled with my red Inuit-design parka had turned me into a walking Christmas card, and breath-induced steam was escaping upwards and clouding my glasses.
Without the hearing aid, my cochlear implant (CI) was on its own. My brain is used to getting its information from the partnership of my left-side hearing aid and right-side cochlear implant. Forced to fly solo, the CI could pick up the high-pitched music over the store's PA system, but it struggled with the overall noise (which also ignited some serious tinnitus). Most shoppers appeared to be in pairs, and all were engaged in discussing their shopping lists. I couldn't help hearing two people interacting urgently, loudly, and with lots of arm waving.
Her: Do we need pasta?
Him: We have enough pasta!
Her: We don't have rotini!
Him: But we have penne!
Her: Right! Go get some coconut milk while I choose the cheese!
Him: No! YOU get the milk and I'LL stay with the cheese.
Her: OK, fine!
I'm thinking, is all this yakking absolutely necessary? You're not wearing masks and your droplets are hosing down the cheese! Cover your gobs, or stop talking, or both. (It's clear that a side effect of this pandemic is crankiness.)
The checkout clerk didn't speak as loudly. I asked her to repeat herself, but not using speech. Because I need to read lips, I bizarrely assumed that people can't understand me from behind my mask. Instead, in a universally understood gesture, I raised my eyebrows and cocked my ear towards her. This seemed to work. She repeated, but because of her amazing skill of talking without moving her lips, I understood nothing. I replied using my own special skill of bluffing (pretending to understand when one doesn't have a clue) and shook my head no.
As I picked up my bags, I heard Ms. Softly Voiced say something along the lines of have a nice day. For some explicable reason, instead of saying you too, I bowed to her. Bowed! Had my neighbor sprinkled some dementia powder in my mask before packaging it? Or did I bow simply because nothing is normal now?
To be fair, my neighbor's only crime was sewing the masks based on the average facial dimensions of her and her husband, which are clearly smaller than ours. The Hearing Husband is 6'6″ with a proportionately-sized head while I, although shorter, have a more, uh, significant nose that pushes the mask outward, making it harder for the elastics to hook my ears comfortably.
Back at the car, I was over my snit and by the next stop, I had the process nailed. I entered the butchers with my mask, hearing aid, CI sound processor and glasses all in place. I stood well back from the counter. I used my voice. I did not bow.
Dislike of masks aside, I was doing my bit to stay healthy, lick this pandemic and keep the economy moving.
ADVOCACY – HEARING LOOP UPDATES
Sarasota Airport – The airport looping project is nearly complete. The ceiling installations required additional amplifiers and have delayed the installation. A formal announcement of Florida's first looped airport should be forthcoming in April.
Note:
The project was on the front page of the March 27 Sarasota Herald Tribune: https://www.heraldtribune.com/news/20190326/sarasota-bradenton-airport-adds-assistive-listening-system .
Note from Anne Taylor:

On behalf of the Sarasota/Manatee board, I would like to say a heartfelt THANK YOU to board member Richard Williams for bringing the hearing loop technology to the attention of the Sarasota airport board. Because of Richard's initiative and passion for improving communication access, in the near future, many of us with hearing loss will have a more enjoyable experience when traveling to/from the SRQ airport. Thank you, Richard! 
Also, this month's Hearing Life features a story about airport looping. Read the article at https://www.hearingloss.org/wp-content/uploads/HL_2019_2_Frazier.pdf.
Players Theatre – A meet and greet with the architect of the new Player's Lakewood Ranch performing arts campus took place on March 21. The architect was proud to announce that the design includes a hearing loop as well as wider aisles. The new Player's will be north of Fruitville Road just east of I-75.
ADVOCACY – ASSISTIVE LISTENING DEVICES
Juliette Sterkens, Au.D., and HLAA's Hearing Loop Advocate recently wrote an article for Canadian Audiologist entitled, "Hearing Loop – The Preferred Large Area Assistive Listening System: Here's Why".
It's too lengthy for inclusion here, but the link is:
http://www.canadianaudiologist.ca/issue/volume-6-issue-1-2019/hearing-loop-large-area-system-feature/
One section is "Wireless Technologies – How They Work, Advantages and Disadvantages".  It is a full discussion of the three technology options for assistive listening devices in use in public venues, such as lecture halls, theatres, community centers, government facilities and houses of worship. Dr. Sterkens analyzes what sets these systems apart and their method of sound transmission. They are: (1) Radio Frequency (RF) or Frequency Modulation (FM) systems, (2) Infrared (IR) systems, and (3) Hearing Loop systems.
A summary at the end entitled, "Hearing Loops Today Will Help Pave the Way for a Wireless Future" states: "When the time comes that a new universal worldwide assistive listening standard becomes available, public venues, already conditioned to focus on effective hearing aid compatible hearing access will not object to adding that new '5G', or 'Greentooth' wireless transmitter, to help a new generation of hearing aid users hear while the hearing loop continues to serve the older devices still in use. 
I am hopeful that the combined efforts of North American hearing professionals, the hearing care industry, people with hearing loss and the organizations that support them (such as CHHA, CHS, IFHOH, HLAA and ALDA), will enable hearing aid compatible assistive listening to spread across this continent — to the betterment of the lives of all consumers with hearing loss, those who love them and those who serve them. As Dr. David Myers (hearing assist advocate from www.hearingloop.org) says, 'Effective loop systems double the use of my hearing aids from hearing whispers spoken on a local theatre stage, announcements at the Grand Rapids Airport or my minister's thought-provoking sermons – all I need to do is push on my telecoil.' How can that not be great for everyone involved?"
THANK YOU TO OUR PROFESSIONAL PARTNERS 
Our Chapter's Professional Partner members as well as other hearing loss professionals offer their assistance as they champion our mission to help others through information, education, advocacy, and support. 
A year around "thank you" is in order for two professionals that support our hearing loop and onscreen real-time captioning, CART at our meetings: 
Jim Scott, Complete Hearing Solutions
Jack Boenau, Americaption Inc.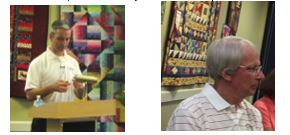 We also appreciate and thank our After Hours Chapter Meeting experts who imparted their experience and knowledge to us free of charge: 
Dr. Karen Draper, AuD, The Hearing Spa
Dr. Lyndsey Nalu, AuD, Adept Audiology
Dr. Victoria Moore, AuD, The Hearing Spa

Dr. Kyle Allen, MD, MPH, Tampa Bay Hearing
Dr. Jack Wazen, MD, FACS, Silverstein Institute
Mark Selis, HIS, All Ears Hearing Services

Our monthly Chapter Meetings had many professionals giving of their expertise. In addition to Dr. Allen, Dr. Moore and Dr. Draper who also assisted the daytime meeting, thank you to: 
Dr. Mary Thorpe, AuD, My Hear Care 
Dr. Lisa Tanner AuD, Hearing Solutions Brandon
Dr. Julie Daugherty NP-C, PhD, Silverstein Institute
Dr. Sharon Rende AuD Silverstein Institute

Our Expos required the talents of many professionals to serve our community's needs. They were:
The HLAA policy is to not recommend any specific product, ENT, audiologist or hearing aid dispenser.
The Chapter follows this policy but has identified professionals who endorse our 501 (c) (3)'s mission to help others through information, education, advocacy and support. They are listed on our webpage at https://hlas.org/joanne-devries/.
CAPTION UPDATE
Technology to Help Hearing
LISTEN! UP has featured ADA, FCC and DOJ rules and court cases on captioning from time to time. HLAA has prepared a short summary of situations where captioning is used.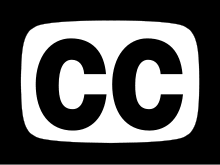 TV: Most TV programs and commercials have closed captioning which means written words of the text are displayed on the TV screen. The captions are accessed either directly by the TV's remote or going into the menu and finding the caption options. The Television Decoder Circuitry Act of 1990 mandates that since July 1993, all televisions manufactured for sale in the U.S. must contain a built-in caption decoder if the picture tube is 13″ or larger. Closed captions on television programs most often have a black background and white text, although different combinations are possible.
Movies: Movies on DVD are captioned as TV shows are. Captions are turned on by turning on the captioning through the menu.
Movie Theater Captioning: Some movie theaters offer open-captioned movies (where the word appears on the screen for everyone to see) or offer closed captioning through devices the customer must ask for. To see where captioned movies are playing in your area, go to www.captionfish.com.
Live Theater Captioning: Some theaters offer captioned performances of live shows.
Captioned Telephones: Show written captions of everything the caller says. The written text appears in a built-in display screen.
CART – Communication Access Real-Time Translation: The verbatim, near instantaneous conversion of spoken language into text. A stenotype machine, notebook computer and real-time software are used to produce the text. The text is usually displayed either on a screen by a projector connected to the notebook computer, or on a notebook computer or computer monitor. People with hearing loss who use spoken language as a primary mode of communication usually use CART.
ADVOCACY – KNOW YOUR RIGHTS AT THE AIRPORT
We have had presentations on travel rights at Chapter meetings and Anne Taylor has written about travel preparation for the hard of hearing in her column.
HLAA has put together a summary of laws, practices and suggestions to ease your travel at airports. That summary is below with all the links.
"HLAA is very much aware of the problems of not being able to hear well in the airport or on the plane and we have been working on this for years. There is no denying it has been a long slow process, but we are moving forward.
Security
HLAA sits on the Advisory Committee on Accessible Air Transportation (ACCESS Advisory Committee) that looks at disability issues. We know they receive training and have a complaint procedure if something goes wrong. Typically, at security the problems have not been with people with hearing loss – much more likely to be a problem with someone who uses a service dog or uses a wheelchair. But if you have specific incidents to report, we can help you file a complaint and can get that information to TSA.
In the Airport
The airport is covered by the ADA, so stores and the airport itself are required to turn on the captioning on any televisions, and generally make themselves ADA compliant. So, some airports have installed an audio induction loop system, like the Gerald R. Ford International Airport, Grand Rapids, Michigan. An audio induction loop can be a big help, but will only happen after the local HLAA chapter or other groups of hard of hearing people spend their time advocating for that kind of access. In fact, the local people are in the best position to help the local transportation authority understand the impact of accessibility because they must work with local authorities and will be more likely to join meetings. HLAA can and does help local initiatives by providing input on educating the facility or providing advice in general.
At the Gate, Airline Information Counter, Baggage or On the PlaneThese are all covered by the Air Carrier Access Act (ACAA). The airline is responsible to provide information to individuals with hearing loss, but they only need to do that once the passenger has alerted the staff to their hearing loss. We work with the US Department of Transportation (DOT) on these issues. Long ago, we send in comments and advocated for real time text displays of announcements at the gate, but this was not adopted by the DOT. Under the rule, people with hearing loss are entitled to get the information directly from airline staff, but only if they identify themselves as having a hearing loss. So, we suggest that individuals identify themselves as having a hearing loss when purchasing the ticket, again at the check in counter, again at the gate and once more on the plane. You are entitled to pre-board the plane as well.
We also continue to push for visual speech to text both at the gate and in the airplane. It's still slow going, but changes are happening. More and more airlines are allowing people to either bring their own tablet to receive their captioned entertainment, or passing out those tablets to people with hearing loss. Some airlines have started to provide the pre-recorded announcements as text on the seat back display. We hope at some point to solve the problem of speech to text for announcements on the airline, but that is a technical problem. Still, we will continue to work with DOT to increase the ability of the individual to get all the information they need every step of the way.
HLAA understands the problems and has been and will continue to work on solutions. They are not easy problems to solve, but we are here for the long haul."
SUPPORT – COPING WITH RESTAURANTS
HLAA Trustee Shari Eberts writes prolifically about the daily challenges of hearing loss.  No situation is more difficult than trying to converse in a busy restaurant.  She recently wrote this tip and with her permission, Listen!Up passes this on.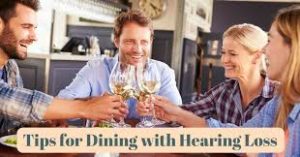 "My favorite restaurant recently underwent a big renovation. The place definitely needed an update, but I was crushed. This restaurant was my safe haven from noise. It was old-school Italian. It had carpeting, acoustic tiles, fancy white tablecloths and waiters from Italy. The food was outstanding and the environment was perfect — quiet.
Then they did the renovation. They removed the carpet and installed hardwood floors. They spiffed up the bar area, adding more hard surfaces, and swapped some of the cloth wall hangings for framed photos. I noticed the difference right away. The restaurant was now more visually appealing, but it was no longer quiet. Factor in my hearing loss, and this renovation has made dining out there quite challenging.
My favorite-restaurant experience highlighted for me the problems that anyone with hearing loss faces these days as restaurant noise levels rise, tables are pushed closer and closer together, and trendy glass and hardwood replace sound-absorbing carpet and cushioning. As I looked for a new favorite, I started thinking about what makes a restaurant good for people with hearing loss and how we can advocate for ourselves to  make sure we get an acoustically friendly table.
Here are my tips for a successful experience when dining out with hearing loss. 
Don't wait to tell the restaurant about your needs. When you call to reserve and make a reservation online, note your desire for a quiet table. Then remind the restaurant if they call to confirm. This gives the staff a better chance of meeting your needs than if you walk in cold. Always mention that you have hearing loss – this often gets more attention than simply requesting a quiet location. If they seat you at a less than ideal table at first, ask for a quieter spot. Persistence can pay off.
Request a table in the corner. A corner table or, failing that, a location beside a wall works best since there is a barrier between you and the noise of the restaurant. You also won't have distracting noise behind you and will find it easier to focus on the speakers at the table. A booth is also a good choice if it has high back seats.
Choose restaurants with sound absorbing decor. Carpet, curtains, cushioned chairs, cloth tablecloths and acoustic tiles are ideal. Most restaurants have websites with photos, so you can preview the decor before you go.
Sit outside.If the weather allows, enjoy dining al fresco, where the noise from other diners has more space to dissipate. You're also less likely to experience loud background music. Of course, this doesn't apply if the outdoor seating is near loud traffic.
Eat early or late.If you can avoid the crowds, the din from other diners will be lower. You'll also be more likely to get the table that you want. And restaurants can be more willing to lower the music during off-peak hours. 
Read online reviews. Many restaurant rating systems now include noise level as one of the criteria. For example, Zagat has a "Good for Quiet Conversation" search category. Yelpallows you to search for restaurant reviews that contain the word quiet. Simply type "quiet restaurants" into the Find area on the main screen. You can also Google any restaurant's name plus "noise levels" to unearth reviews that discuss how loud the restaurant is or isn't. 
Ask around. I like to trade restaurant tips with my hearing-loss friends and with my hearing friends. Once you hit a certain age, everybody wants a quiet restaurant! " 
Shari Eberts is a hearing health advocate, writer, and avid Bikram yogi. She blogs at LivingWithHearingLoss.com and serves on the board of trustees of both the Hearing Health Foundation and Hearing Loss Association of America. You can find Shari on Facebook and Twitter.
ADVOCACY–CELL PHONE VOLUME AND HEARING AID COMPATIBILITY RULE ADOPTED BY FCC
HLAA has appeared at FCC hearings recommending changes in rules for cel phones to provide accessibility to the hard of hearing. HLAA reported on Monday the efforts have been successful.
The Federal Communications Commission (FCC) released an Order to update its requirements for hearing aid compatibility and volume control on wireline and wireless telephones.
In their news release regarding this new rule, the FCC said, "Under the Hearing Aid Compatibility Act, the Commission is required to establish rules that ensure access by people with hearing loss to telephones manufactured or imported for use in the United States. With today's action, the Commission continues its efforts to ensure that tens of millions of Americans with hearing loss have access to and can benefit from critical and modern communication technologies and services."
This Order:
adopts a revised volume control standard for wireline handsets to provide a more accurate measurement of voice amplification

implements a provision of the Twenty-First Century Communications and Video Accessibility Act to apply all the Commission's hearing aid compatibility requirements to wireline telephones used with advanced communication services, including phones used with Voice over Internet Protocol (VoIP) services

requires, within three years, that all wireless handsets newly certified as hearing aid compatible must include volume control suitable for consumers with hearing loss

reminds manufacturers and service providers of existing outreach obligations to ensure that consumers are informed about the availability of hearing aid compatible phones.
SUPPORT – END YOUR ISOLATION
Our Chapter's Mission Statement is:
"To empower the more than 145,000 people with hearing loss in our community to lead more active lives by providing education/information, support and advocacy."
An article in Hearing Tracker by Stu Nunnery is helpful in supporting members and friends in avoiding isolation, which is sometimes easier than dealing with your hearing loss. Mr. Nunnery is a writer, speaker, recording artist and hearing activist.
He suggests joining a support group such as HLAA or others.
End your Isolation – Join a Hearing Loss Support Group
There are a staggering number of people with hearing loss – close to one-in-six globally – and most of us are not getting the help we need. In fact, the National Academy of Sciences, Engineering and Medicine (NAS) reports that 67-85% of those with hearing loss still do not or will not wear a hearing aid. The reasons vary from person to person, with the most common being a lack of education on the signs of hearing loss, denial, social stigma, and the cost of hearing aids. Given the alarming statistics cited above, it's clear that we are not doing enough to support (financially and otherwise) those who could benefit from hearing aids.
The larger hearing loss community encompasses every population, age, and economic group. Most of us know someone with a hearing loss. It's your boss, your customer, the person sitting next to you in church, the professor or student in a college classroom, the checkout clerk at your local supermarket. But because it carries with it a social stigma, many are in denial and reluctant to acknowledge or expose their hearing loss (by wearing a hearing aid), or even reach out for help.
Those who do seek help may know something about otolaryngologists (ENT's), audiologists and hearing rehabilitation specialists. But many of us find it insufficient to rely exclusively on the information and support provided by these professionals. Sometimes it takes direct communication with other hearing loss "sufferers" to help us to live with and move beyond our hearing loss.
Flying Solo
It took me many years to appreciate the importance of interacting with the hearing loss community. I spent more than three decades avoiding interaction with others like me. I never wanted to see myself as part of an outlier disability group or demographic. I was a "fully" functioning human being, I believed. I just couldn't hear well.
The hearing loss community focuses on hearing loss and I didn't want to do that. I was upgrading my tech and trying to stay ahead of the curve so really, what more need I do? The irony, of course, was being a hearing health snob who thought he knew best while only further isolating me from the help I needed.
It was clear what I should have done. I was alone much too often and for far too long and as the result much of my life was lived in a self-imposed hearing exile. The isolation I endured over that period of time had a tremendous cost. Yet in that regard, I was not unusual and isolation is one of the most challenging issues for all of us with hearing loss. New research suggests that untreated hearing loss and social isolation are both strong risk factors for dementia.
Joining the Hearing Loss Community
So, where do we go to find people, places and things that might pull us out of our self-imposed isolation? The good news is that there are myriad hearing loss support groups across the country, many of them nearby, with interesting people, in and out of the box resources, social and educational activities, and emotional support that can fill in the gaps. And there will be gaps. Support groups are lifelines for the "hearing lost" that surprisingly are underutilized.
Support groups have much to offer that you cannot get anywhere else. Most if not all states have their own agencies or commissions on deafness and the hard of hearing that provide leadership, advocacy and education and can lead you to multiple resources often just a phone call, text, or email away.
You'll find support groups in your state – sometimes multiple support groups – that hold regular meetings, conduct workshops, hold regional and national conventions, offer speakers, social events and activities as well as websites and Facebook Pages for easy connections and each with many more links with ever more information and resources.
As I have, you will find a vibrant and diverse community, from all walks of life and circumstances, people with interesting lives and stories to tell. Many of them have spent large chunks of their own lives isolated and cut off as well.
Our colleagues and peers in the hearing loss community have experiences and know things that even the professionals we work with cannot tell us. Collectively, we know the drills: how to hear and make adjustments when we're challenged; how to survive in public places; how to talk about our lives and how to engage others regardless of our situations. We also know how to communicate in a variety of settings, with a variety of tools – not just with hearing aids and cochlear implants, but through lip reading, sign and body language, and especially with cutting edge assistive hearing devices and the latest tools, toys and apps.
Most importantly, hearing loss support groups (see below) can help you to become your own best advocate, to take charge of your hearing experience, make the best use of technology, interpret the latest research, and identify the wide variety of services available that can build your confidence and enhance your communication skills.
Isolation Is a Choice
Isolation from hearing loss is not a fait accompli, it's a choice that we make. Learning to live with and move beyond hearing loss involves too many steps and covers too much terrain to reside solely in the domain of the medical and technological professionals. The very personal, emotional, psychological and behavioral issues we encounter involve family, friends and relationships of every kind. They touch our interactions in the work world and the marketplace, the activities of our daily living from sun up to sun down. And they impact every aspect of how we manage and cope with a host of situations and circumstances that we ultimately find ourselves in.
Within support groups, the chances are now greater than ever before to meet new people with similar and diverse backgrounds, skills and interests – to enjoy a conversation, go out to dinner, travel, see a show, or take a walk without feeling the need to explain ourselves. Above all, to laugh, love and enjoy life like everyone else. Email, texting and Twitter have been a godsend for us for sure, but nothing beats a real face, a voice and a soulful connection.
Expand your universe of friends and colleagues in the hearing loss community. End your hearing loss isolation. Join a hearing loss support group.
ADVOCACY – HEARING SAFETY
How Can I Keep My Family Safe When I Cannot Hear the Danger?
Shari Eberts wrote this article for her blog, https://livingwithhearingloss.com/about/
She is an HLAA board member and has granted permission to use for ListenUp!
"'What is that noise'?" my son asked me one lazy afternoon this summer. 'I don't hear anything,' I replied. 'It sounds like someone is coming up our driveway. The motor is revving. Can't you hear it?"' he practically shouts in an increasingly worried voice. He was nervous that danger was approaching. I didn't hear a thing.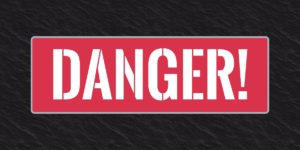 This goes on for a minute or two as I put down my book and move closer to the source of the apparent sound, listening intently. Still nothing. My son is getting more agitated so we walk across the lawn and look down our driveway. Now I can see the cause of the disturbance.
A couple of neighborhood kids are riding their motorbikes up and down our dirt driveway. They probably should have asked permission first, but there is no real danger. But what if next time there is?
Now I am scared. How can I keep family safe if I can't hear the danger? Rather than be cowed by fear, I spent some time researching my options. Here are my ideas …
1. Create visual cues: Some alarm systems provide both visual and auditory alerts. Flashing lights would alert me to visitors (invited or otherwise) even if I could not hear them approach.
2. Rely on your living companions: My son served this function in the earlier example. Once I knew there was a noise to investigate, I could do that and take any necessary action.
3. Use the security system: We have a house alarm system, but sometimes we don't arm it. Whenever I am home alone with the kids for the night, I need to use it.
4. Adopt a dog or other service animal: Many people swear by their service dogs. While this is a viable option for many people, it is not for me. I am allergic.
5. Build a support network: Partner with neighbors to alert one another to anything unusual in the area. We should all take the time to do this, hearing loss or not.
6. Have an emergency plan: Discuss with your family where to go to stay safe in case of an emergency. This might be a particular part of the house (i.e., the basement for a big storm) or somewhere else in your area.
Dwight Eisenhower once said, "'in preparing for battle I have always found that plans are useless, but planning is indispensable.' This is probably true in this case. While my plans may never be enacted, (hopefully not), I feel more confident and secure having thought through the issues and discussing them with my family. Living in fear is not an option."
ADVOCACY– HEARING LOOP BENEFITS
All of us have been fortunate to experience an improvement in speech understanding and sound quality when a venue has installed a hearing loop.
Wouldn't it be ideal if all venues offered looping?
Only through education and advocacy will public buildings, theaters, places of business and worship learn the value and importance of loop technology to the hearing loss community.
Each of us needs to advocate for hearing loops. Here is some information to assist in advocacy:
Juliette Sterkens, Au.D is HLAA's advocate for hearing loops. She recently published an article for The Hearing Journal in August to convince audiologists that hearing loops for public areas are superior to Bluetooth and FM due to the "telecoil's easy and direct-to-hearing-aid-compatibility." It is distressing that some audiologists do not educate their patients on the hearing loop.
A portion of the article is reprinted below with approval from both Dr. Sterkens and The Hearing Journal.
"HEARING LOOP BENEFITS — Dramatic benefits of hearing loops were documented in two studies. A survey in 2014 (Kochkin1) asked 866 people to rate the performance of their hearing aids or cochlear implants using a 10-point scale. The average response was 4.9 in a non-looped setting and 8.7 in a looped environment. A 2016 study by Faivre2 demonstrated hearing loops greatly improved speech understanding and sound quality, and reduced listening effort.
How can a hearing loop deliver such dramatic improvements? Simple. In a hearing loop the microphone of the PA system is the microphone to the hearing aid. In a loop the distance and reverberation limitations of hearing aid microphones are overcome. Instead of acoustic transfer of sound, sound is transferred via the magnetic field. In a loop the user hears the cleanest and purest sound possible, often at signal-to-noise ratios that permit, even those with severe and profound hearing loss, to understand speech.
And what about the budding child actor on stage? He may be heard 'in the loop', thanks to a telecoil, with greater clarity than the normal hearing audience can 'out of the loop'. Small wonder that a hearing loop movement is spreading the USA, with new equipment vendors, dozens of trained installers, and now thousands of installed hearing loops in places small (all new New York City taxis), medium-sized (worship places and auditoriums), and huge (a handful of airports and Michigan State University's basketball arena). This increased hearing aid functionality bodes well both for us hearing care providers and those we serve.
1. Www.hearingreview.com/2014/09/consumer-perceptions-impact-inductively-looped-venues-utility-hearing-devices/
2. www.hearingreview.com/2016/07/effects-hearing-loop-systems-speech-understanding-sound-quality-normal-hearing-listeners-hearing-aid-users/'
ADVOCACY– HEARING LOOPS NOW ON PUBLIC TRANSPORTATION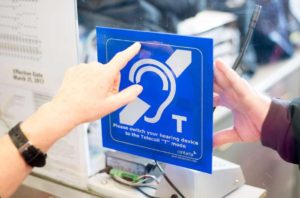 As excerpted from a June San Francisco Chronicle article by Benny Evangelista, the article indicates the Diablo Valley Chapter of HLAA was instrumental in loop installation and HLAA Hearing Loop Advocate, Juliette Sterkens, provided background to the report:
Jill McFadden's eyes widened in amazement as words that most BART riders take for granted beamed directly into her ears.
"10-car San Francisco train approaching, platform 2," a grinning McFadden repeated, shooting her right thumb upward. "OK, I love it."
The Pleasant Hill resident was trying out a new BART hearing service, which converts the audio into electromagnetic signals that can be picked up with compatible hearing aids or cochlear implants. Per the American Public Transportation Association, BART appears to be the first public transit agency in the U.S. to install the technology, called a hearing-loop system, with the test in its Fremont Station.
For riders like Moraga's Anita Ogden, any step that helps her hear important public address announcements is a positive.
"Oh, my goodness. 'Do not board' — I heard that!" Ogden said of an announcement that was almost inaudible to riders who didn't have a hearing aid. "The train at platform something is out of service. I never would have heard that, although there's a perfectly clear sign that says 'not in service.'"
About 17 percent of U.S. adults have some degree of hearing loss, and for people 75 or older, the figure climbs to 50 percent, per the National Institutes of Health. However, only about 20 percent of people with hearing loss use hearing aids.
"The level of your hearing loss affects how well you function in society and a variety of situations," Thomas said.
Hearing-loop technology is available for people who wear hearing aids equipped with an internal antenna called a telecoil, or T-coil. Spoken words picked up by a microphone fed into a public-address system are linked to the loop, a thin wire that converts the audio into a magnetic signal that's then picked up by the T-coil, which must be switched on by the wearer.
"The hearing aid processes the audio and feeds it into the wearer's ears. The hearing aid can reduce the background noise or other acoustic problems," said Juliëtte Sterkens, a retired Wisconsin audiologist who is now a full-time national hearing-loop advocate for the Hearing Loss Association of America.
"Hearing aids work best about 6 feet or less from the person talking," per Sterkens. "When a large area like a church, museum or library is 'looped', the distance is greatly increased. They can hear the sound as if they are mere inches from the mouth of the speaker," she said.
BART officials said transit agencies in Europe and Australia use hearing loops. "The only other known transit stop in North America with a test hearing-loop system is in downtown Toronto," said Virginia Miller, the American Public Transportation Association's media-relations director.
Project Manager Carl Orman said BART is still working to refine the system, which will remain in an "open-ended" pilot phase. Whether BART installs loops in other stations depends on how it ultimately ranks against other accessibility projects. Ogden said she was pleased that when she stood on the platform, she could hear elevator updates and train arrivals sent "right into my ear". "My church has moved the sermon right into my ear. Makes a lot of difference. The real test, and the real concern I have, is in an emergency."
She thought about how other BART riders sifted through the normal station noise.
"I don't think it's clear for people with normal hearing," she said.
ADVOCACY AIRLINE TRAVEL 
Why are air carriers still failing people with disabilities?  
Lisa Goldstein, a writer for Backchannel, recently addressed our recurring airline issues. Many of our members that contact the disability department of the airlines find that due to simplified coding, a wheelchair awaits at the end of the trip. Why?     
At the end of this article, Lynn Rousseau, a Florida HLAA advocate and recent Chapter speaker is quoted. Here is the article – read it before your next trip in the "friendly skies". 
Airlines Are Letting Old Technology Abuse Their Customers

"It's 2017. Why are air carriers still failing people with disabilities?  
John Stanton, an attorney for the US Department of Justice, travels often for work. He's deaf, which he notes in his profile whenever he buys a plane ticket. 
Last year, when traveling to San Francisco via United Airlines, Stanton disembarked from his flight to find an attendant waiting with a wheelchair. He looked up to see the aide was carrying his name on a sign. Stanton, who played football in college and has run seven marathons, was confused. "I told him, 'Thanks, buddy, but I don't need that,'" he recalls. 
Talk to a person who is deaf or hard of hearing, and you'll hear a litany of travel horror stories. Take Laura Gold, who once found herself on the wrong airplane because the ticket counter didn't tell her that her flight had changed gates. Or Carly Armour, who couldn't hear the announcer calling her name and missed a flight that would reunite her with a long-lost brother.  
These kinds of mishaps aren't limited to people who are deaf or hard of hearing, and they happen all the time. The millions of Americans with disabilities, who require accommodations when they travel, are dealt slipshod fixes when they travel by air. Often this happens because passengers are classified under the broad umbrella of "disabled," as if someone who is paraplegic requires the same accommodations as someone who is deaf. But the system also fails because the technology it relies on is just plain outdated. 
There are few recourses".
"The Americans with Disabilities Act, which was passed by Congress in 1990 to ensure equal access for people with disabilities, only partially addresses air travel under its broad umbrella of mandates. That's because the Air Carrier Access Act, an earlier bill passed in 1986, covers accessibility issues in airline travel. The ACAA is enforced by the Department of Transit, while the ADA is usually covered by the Department of Justice. The split responsibilities make the ACAA difficult to enforce.
That means that airlines have less of an incentive than other companies and public agencies to alter their typical user experiences. So as terrible as airline travel is, if you have any kind of unusual need, it's invariably worse.
Most of the problems encountered by passengers are technological – tied to arcane classification systems that enhance the confusion of traveling-while-disabled. Airlines classify passenger information through Special Service Request (SSR) codes: four-letter acronyms that alert staff to a passenger's needs. (The code for someone who is deaf or hard of hearing is DEAF.)
But these codes are often misused, per Eric Lipp, the executive director of the Open Doors Organization, a nonprofit that aims to improve travel and tourism accessibility. Airlines often just plug in the code MAAS, which stands for "Meet and Assist", for passengers who are blind or deaf – which leads to the automatic wheelchair meet-and-greet.
These codes are often the only information airport staff and other customer service representatives receive, because airlines withhold personal passenger information from contractors. Depending on the city and service provider, software often doesn't recognize the SSR codes, Lipp says, or airlines use the wrong code, which gets misconstrued as it makes its way through the chain. That's why Lipp, who travels with his own scooter, inevitably finds a wheelchair waiting when he deplanes.
United Airlines — a company where many of my sources experienced problems while traveling — told me they use the SSR code HI for Hearing Impaired. But according to Lipp, all codes are four letters, and this code doesn't exist. And changing a code isn't easy, says Lipp, because the codes are used internationally. "Many underdeveloped countries would have to change their processes, which could be a financial burden to some," he adds. It's easier for service providers to join the software systems used by airlines, allowing for a continuous thread of information.
And despite upgrades to airline comfort, in-flight entertainment still doesn't include captions, aural action descriptions, or other ways of letting deaf and blind people participate. For the first time last fall, the US Department of Transportation drafted regulations related to captions for in-flight entertainment. The final agreement mandates that the same in-flight entertainment that's available to all passengers also be accessible to passengers who are deaf, hard of hearing, blind, or visually impaired.
Delta now provides captioning on in-flight entertainment on both seat-back displays and personal Wi-Fi devices, but only 20 percent of its airplanes have upgraded. Captioning is also available on JetBlue through its DIRECTV service on all Airbus A321 aircraft, and will eventually expand to the rest of its fleet.
It's difficult for anyone to hear airline announcements, but for people who are deaf or hard of hearing, it's decidedly harder. Airlines are becoming more tech savvy, but Lipp says the industry is concentrating on mobile apps and devices. Mobile apps often include push alerts covering major announcements, such as gate changes or flight delays. Yet these alerts are often delayed compared to the immediacy of an announcement, and smaller announcements, such as an overbooked flight or a standby notification, aren't included. Visual paging — when an audio page is posted in text form on screens — is becoming very easy, but it's not yet ubiquitous.
And what happens when a deaf person tries to complain? When I tried to contact Delta Airlines using the Relay, a calling system used by people who are deaf or hard of hearing, I received several hang-ups and long hold times. Corporate Care transferred me to the reservation desk; the reservation desk transferred me back to Corporate Care. There's no email address for media relations or customer service. And Delta is supposedly one of the most accessible airlines.
In 1986, because of the ACAA, airlines launched a system of complaints resolution officials – staff who are specially trained to handle disability-related issues for airlines. The CRO can handle all situations on behalf of the carrier, and all carriers have a central CRO at corporate.
But that doesn't solve all the problems. Lynn Rousseau, a member of the United Airlines Accessibility Board, agrees that the lack of accessibility at airports is frustrating. Travel has become accessible to so many more people, Rousseau tells me, but it still hasn't adapted to meet the needs of every customer. Those customers are already advocating for themselves—they're just waiting for the industry to catch up".
TECH TALK
Last month, the Wall Street Journal had an article about TV sound.
Chapter members are savvy about techniques and technology to help hear television but Geoffrey Fowler, the author, had some new ideas on how to make TV sound more clear.
"You know there's a problem when you keep reaching for the remote to crank the volume up and down. Or perhaps you're like my septuagenarian parents, who squabbled recently about dad's excessive cable news volume while mom was trying to read in the other room.
The blame starts with TV makers, many of whom treat sound as an afterthought in their quest to make ever-thinner screens. You need at least a little junk in the TV trunk for speakers to produce decent sound. Nowadays, you'd be hard-pressed find a model with speakers even facing you—most TVs have speakers that point down or toward the back, where sound can get muffled. And volume levels can still be all over the map between your cable box, Blu-ray player, Apple TV and PlayStation.
Short of cranking the volume up to 11, there are things you can do to hear dialogue better. Here are some proven strategies—plus new options for seniors and others who might experience moderate hearing loss.
Fix the TV
Before you spend a dime, try moving the TV. When I went to visit the engineers at Dolby, which makes audio and video tech, they helped me set up an experiment: Using a microphone and sound meter, we compared the speaker output of the same popular-model TV mounted on a wall and sitting on a table. The key is to measure the level of sound at around 1,000 hertz, where human voices tend to come through strongest.
In the lab, setting the TV on the table made dialogue clearer. Why? Because the TV's down-facing speakers needed something to bounce off. But not all surfaces are the same: A cloth on the table will absorb sound. Moving a TV closer to a wall or burying it inside a cabinet could make it more bass-y…
Your TV's audio settings are also worth investigating
Some have night modes, which soften loud moments that might wake up others. There are also surround modes, which make you think sound is all around. But audio gurus recommend using these carefully…
If you use a set-top box, you could also buy a $170 box called the AfterMaster Pro. Made by the company that mixes audio for the Fox show "Empire," this small device plugs in between your cable box or Blu-ray player and the TV, and remasters the audio on the fly. AfterMaster is a little vague about what exactly it is doing, but when I tested it, movie dialogue sounded louder and a bit clearer, without diminished background effects.
Replace Your Speakers
If you're looking for an excuse to throw some money on the problem, this is it: Sound is nearly as important as picture quality, so I endorse buying separate speakers. If your budget (or your spouse) isn't having it, spend less on the TV and shift that budget to audio…
Living rooms got less messy with the arrival of the soundbar, a single piece of equipment that typically plugs into the TV's audio-out (most often an optical audio, aka Toslink, port). These long speaker bricks generally do the job of the front set of home-theater speakers, including a center channel that's key for dialogue.
Soundbars have made great leaps in quality in recent years, and prices are falling. For $200, Yamaha's AS-106 packs in a lot of sound. I use the $699 Sonos Playbar, which can be paired with other wireless speakers. Sonos recently introduced an app that tunes its speakers based on the room and couch placement. Some audio experts say that sort of calibration shouldn't be necessary, but the process made my Sonos setup clearer.
For seniors, the small, $250 Zvox AccuVoice AV200 is a basic soundbar that incorporates sound-processing tech like hearing aids. In my tests, the speaker made voices louder and clearer than my TV speakers alone.
Bring the Sound to You
If your TV-listening volume makes the people around you uncomfortable, here's a solution that may usher in domestic bliss: Hook up a pair of wireless headphones.
Many new TVs are equipped with Bluetooth, so you can pair up any headphones you'd like. Some premium hearing aids can also double as wireless headphones, so check with your audiologist.
If you have an older TV without Bluetooth, consider a new $180 headset called the Clarity TV Listener, which comes with a box that converts a TV's left and right audio-out signals into wireless signals. (It may not work on newer sets, unless you get an optical audio adapter.)
For people with moderate hearing loss, Sennheiser makes a $400 pair of wireless headphones called RS195 that can boost frequencies in ranges many struggle with, and also has a speech-enhancement mode. (This model does connect to the optical output on newer TVs.)
Even better, when you use the audio-out for headphones, those around you can typically still watch using the TV's speakers at a volume that works best for them".  
Advocacy News
Part of HLAA's mission is advocacy. It could be as simple as reinforcing the importance of the loop.
Last month a member verified the hearing loop was operable at the Venice Theater before purchasing tickets to "The Sunshine Boys". Upon arrival, two signs were in the lobby. Alas, the dialogue could not be understood as the loop was not "on". The member immediately went to the theatre office. They checked and advised that the system must have been jostled during an earlier event. The loop was turned on and all the comedy came in loud and clear.
Two things were accomplished:
(1) the member could enjoy the show;
(2) the theater staff was reinforced about the value of loops to patrons with hearing loss.
Below are the ten key goals and outcomes of HLAA's advocacy mission from the HLAA website:
"The mission of HLAA is to open the world of communication to people with hearing loss through information, education, support and advocacy. HLAA achieves its mission by working diligently to achieve the following ten key long-term goals through our public policy and advocacy initiatives. In addition, we encourage the use of best practices by hearing health care professionals during the assessment and treatment of hearing loss. HLAA also supports vigorous enforcement of current local, state and national disability and human rights laws that include provisions for effective communication".
Ten Key Goals and Outcomes
Policy makers and the public recognize that hearing is critical to healthy living and that hearing loss impacts all aspects of life. As such, hearing health care providers are knowledgeable about hearing loss and hearing health care is included in all aspects of health screening and health maintenance.
Hearing aids, cochlear implants and aural rehabilitation are affordable and accessible, and covered by the Medicare, Affordable Care Act, and third-party payers.
Affordable and accessible hearing health care along with appropriate consumer choice, education and transparency is provided to all who need it.
Public and private venues, including all types of public transportation are communication accessible through technology such as hearing loops, FM, infrared, captioning and other technologies.
All education and entertainment media (television, Internet video programming, and movies) meet the highest quality captioning and audio quality standards that ensure equal access, full understanding and enjoyment by consumers.
Consumers have comprehensive choice and access to captioned and hearing-aid-compatible (HAC), high-fidelity, landline phones and mobile devices.
Consumers are actively involved in the design and development of emerging hearing assistive technology.
Hearing assistive technology (HAT) products are compatible and interoperable regardless of brands through open-source wireless technology.
Emergency preparedness communication systems are accessible for people with hearing loss and first responders are knowledgeable about the needs of persons with hearing loss.
Workplaces are communication accessible and welcoming to people with hearing loss.
ADVOCACY – CAPTIONING AND CART
LISTEN!UP is reprising captioning and CART information to help newer members to advocate for themselves. Education and Advocacy are part of the HLAA mission.
Captioning is the text of the audio portion of a video or film displayed directly on the video or film, often on the bottom of the screen. This may include not only the words, but the sounds that are important to understand and the source of the sound. Open captions cannot be turned off; closed captions are not visible unless they are decoded and turned on for display.
CART (Communication Access Realtime Translation) is verbatim text of spoken presentations provided for live events. Only the text is provided on a computer screen or projected for display on a larger screen. CART may be provided in the classroom, at meetings, workshops and other presentations including live theater – anywhere that someone with a hearing loss needs to hear in a group setting.
The FCC (Federal Communications Commission) considers closed captioning for television or the Internet an assistive technology that allows persons with hearing disabilities to access television programming under the Communications Act. For a television receiver to display closed captions, it must use a set-top box decoder or contain integrated decoder circuitry.
The US Department of Justice ("DOJ") considers captioning an accommodation under the Americans with Disabilities Act. Movie captioning is not yet a required accommodation in all cases, but DOJ is requiring closed-captioned movies for the larger movie chains. A final rule issued in November, 2016 states: "Movie theaters shall: (1) have and maintain the equipment necessary to provide closed movie captioning and audio description at a movie patron's seat whenever showing a digital movie produced, distributed, or otherwise made available with these features; (2) provide notice to the public about the availability of these features; and (3) ensure that theater staff is available to assist patrons with the equipment before, during, and after the showing of a movie with these features".
Closed captioning is often critical to people who are hard of hearing or deaf. Television is the sole source of local information in an emergency for many. Both television and movie captioning is clearly a source of information, education and entertainment.
You don't have to have a hearing loss to find closed captioning useful: people for whom English is a second language use captions to get a better grasp of English, children's reading is enhanced with the use of captions, and hearing people in bars, gyms, airports, and other noisy places appreciate the value of captioning.
Captions on television are required with few exceptions.
For more information about the FCC's requirements:
• For television captioning visit: www.fcc.gov/cgb/dro/caption.html
• For Internet captioning visit: www.fcc.gov/cgb/dro/cvaa.html
Hearing Loops
Hearing loops are truly international. Although hearing loops are prevalent in Europe, hearing loss advocates have made great strides down under and in other travelled areas in Asia.
Thanks to our past HLAA Treasurer, Eileen Schulert and husband Doug for the pictures as they travel about the world. If you see Loop signs on your travels, send a picture to the Listen Up editor at [email protected]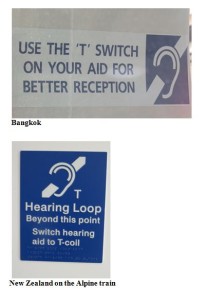 HEARING ADVOCACY – C A R T
CART: (Communication Access Realtime Translation) is verbatim text of spoken presentations provided for live events. Only the text is provided on a computer screen or projected for display on a larger screen. CART may be provided in the classroom, at meetings, workshops and other presentations including live theater – anywhere that someone with a hearing loss needs to hear in a group setting.
Katherine Bouton, an HLAA Trustee and author of "Shouting Won't Help," recently wrote an AARP column entitled "Frustrated by Silence at a Funeral". She heard little of a friend's memorial service because the church did not have a hearing loop or an FM or an assistive listening system. If a Church or a funeral home lacks such devices, all is not lost—CART can provide the realtime captioning necessary for your accommodation.
Funeral homes are required by Title III of the Americans with Disabilities Act (ADA) to provide effective communication, including assistive listening systems—but please notify them ahead of time. Houses of worship are exempt from the ADA but may be willing to provide CART for a funeral if this is requested.
Our HLAA Chapter is active with the Sarasota "Citizens with Disabilities Advisory Board" and made presentations to them calling for the looping of city meeting facilities. Sarasota City Council members were invited to our looped Chapter meetings (and attended) and were encouraged to accommodate those with hearing loss.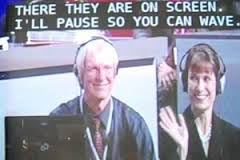 Our Chapter's CART professionals, Jack and Dee Boenau.
KNOW YOUR RIGHTS—there will be a presentation on the rights of hard of hearing persons at our February 10 Chapter meeting.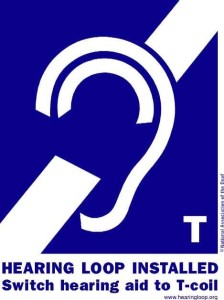 Our advocacy was successful! The Sarasota City Hall Chambers and the Sarasota County Media Room located in the City Hall Annex Building are now equipped with an induction loop system that enables people with hearing loss to hear council meetings and proceedings more clearly.
From our Chapter's press release: "Approximately 145,000 residents in Sarasota/Manatee counties have some level of hearing loss making it a public health issue third in line after heart disease and arthritis.
Over the past 5 years, our HLAA- Sarasota/Manatee Chapter has been successful in educating the community on the benefits of installing a hearing loop system in their business or venue. In addition to the Sarasota City Hall Chambers and the Media Room, more than 120 venues in Sarasota/Manatee counties offer hearing loop technology. The result is better communication access for persons with hearing loss benefit when attending area churches, the theater, or visiting business locations throughout our community".
Thank You WAWA!

Many of us have difficulty at airline counters, retail areas and fast food establishments—and many other public situations—due to the ambient noise and clerks not looking up. Give up on Starbucks, Subway, Publix deli, Quiznos and other coffee or sandwich shops? Some have.
The new WAWA stores now offer touch screen ordering where every possible choice that goes into making a sandwich or a drink can easily be selected. Go through the choices and then pay and pick up the order—no need to play 20 questions and constant repeating.
We hope to see more of this digital ordering to assist those with difficulty hearing in loud environments. Do your part in advocating at any store with loops or electronic ordering by simply letting the manager know and pick up a comment card and state your thanks for making shopping and buying easier.
 
AUTHOR AND SPEAKER/COMEDIENNE, GAEL HANNAN VISITS CHAPTER MEETING
HLAA Convention veterans know Gael Hannan who has been the banquet speaker at HLAA Conventions and uses her comedy to make points about hearing loss and to encourage advocacy. She is Canada's leading hearing loss advocate.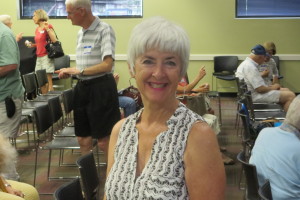 Gael publishes a weekly electronic publication, "Hearing Health and Technology Matters" http://hearinghealthmatters.org/betterhearingconsumer/
Gael and her husband are completing a 10,000 mile trip around the U.S. and visited our Chapter meeting in April.
If you are traveling this summer (or anytime), her April 15 article is a fun read but is instructive as what we can do when visiting attractions (Fort Sumter, Alamo, Mt. Rushmore, Hearst Castle and more in this article). A quote to induce clicking ahead– "I fired another shot at Fort Sumter, this time on behalf of hearing accessibility. I don't think any hell is breaking loose today, but I hope they are discussing it at this week's Park Ranger's staff meeting".
Gael Hannan is a writer, actor and public speaker who grew up with a progressive hearing loss that is now severe-to-profound. She is a director on the national board of the Canadian Hard of Hearing Association (CHHA) and an advocate, whose work includes speech reading instruction, hearing awareness, workshops for youth with hearing loss, and work on hearing access committees.
Gael is a key developer and manager of The Hearing Foundation of Canada's award-winning Sound Sense hearing awareness program for elementary students across Canada, and she also delivers corporate sensitivity training sessions on employee and clients with hearing loss.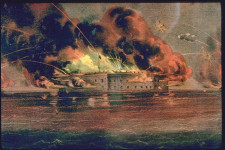 My Shot on Fort Sumter
By Gael Hannan On April 15, 2015
If you have hearing loss, you need hearing access. And if you want hearing access, you have to ask for it.
Most people—grocery cashiers, flight attendants and National Park rangers—are not going to look at you, recognize your issue and say, "Here, person with hearing loss, let me make this easier for you."
Systems might be in place and waiting for you, such as print interpretation, captioning at the movies, bank counter loops to work with your telecoil, or other hearing aid and CI-compatible devices. But you may still have to ask for it.
"Yo, I've got hearing loss. What have you got that will help me?"
That's the theory. But sometimes the systems that are supposed to be in place just aren't.
The Hearing Husband and I have been on the road for months, off and on, in Flag, our trusty fifth wheel. By the time we re-enter Ontario next week, we will have driven 10,100 miles circumnavigating the United States. (Our apologies to New England which, on this trip, we have had to cut out completely.)
As travelers do, we've visited many attractions and events, most of which were accessible but some that didn't quite meet the mark. At the Houston Rodeo, we watched from the CART provider's booth. At Mount Rushmore, the historical movie was open-captioned (although the white words often washed out against the background). At the Hearst Castle, they gave me hearing aid-compatible headphones to understand the film's narrator. (For those who can't use the headphones, the same video is shown with captioning in a separate room. I'm still trying to figure that one out.)
At Gettysburg, I used my hearing aid telecoils and a provided neckloop receiver. Print interpretation was everywhere. There was good signage at the Alamo, at the spot where Lewis and Clark ended their exploration, and where Wild Bill Hickok played his last hand of poker.
That was all good. But this week, for the first time in a long time, I had an inaccessible tourist experience—at Fort Sumter National Monument in Charleston, South Carolina, the site of the Civil War's first action.
At 4:30 a.m. on April 12, 1861, confederate officer Lt. Henry S. Farley fired a shot at the Union-held Fort Sumter and then all hell broke loose. One hundred and fifty-four years and one day later, I fired another shot at Fort Sumter, this time on behalf of hearing accessibility. I don't think any hell is breaking loose today, but I hope they are discussing it at this week's Park Ranger's staff meeting.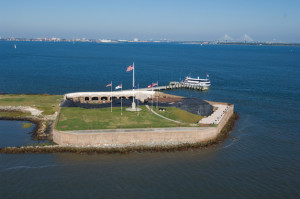 On the half-hour boat trip to the island fort, an historian used the boat's PA system to talk about Fort Sumter, its background, and the rules for touring (no playing on the cannons or writing your name on the bricks). Because of the boat noise and a large group of high school students on a field trip, it was difficult to hear him, so I tuned out, intending to catch up once we got there.
Entering into the Fort, we were encouraged to gather around a National Park Ranger who talked for 15 minutes about the various battles and bombardments during the war. I'm sure it was very interesting but I can't say for sure—he stood in shadow, used a PA system and had a moustache.
No problem, I thought to myself, this is a government organization and there must be some sort of access. I asked another Park Ranger standing nearby what access she could provide. She looked a bit panicked, but took me over to a desk near the entrance, found the key to open it, and looked at the pamphlets inside.
"Hmm, I know we have some copies of the speech. Oh here's one." She picked up a thick Braille booklet, but looked at me and we both shook our heads.
"I'm sorry, but we seem to have given all the written copies away."
"That's too bad," I said.
"What if you moved through the crowd and stood close to him?"
"I tried. Listen, don't worry about it now. But you really should make more copies for people like me who can't hear very well."
I wandered off to explore the fascinating place and read the information plaques. A while later, I came across both Park Rangers—the mustached speech-giver and the one who had tried to give me a Braille script, and who now had other papers in her hand. She said, "I was looking for you. I found a printout of the welcome speech and frankly, it's full of mistakes, but someone has written in the correct dates and information."
"Thanks," I said and then, turning to the male officer, I said, "May I offer a suggestion. How about, at the beginning of your talk, you tell people that if they can't hear you, written copies are available. Many people with hearing loss will just pretend to understand your talk, and are unlikely to ask for access. They will be grateful if you help them along a bit."
"That's a good idea, ma'am," he said.
"And one other thing?"
"Yes, ma'am?"
"If you could trim your moustache just a titch, I could read your upper lip as well as your lower lip."
"I'll do that, ma'am, thanks for the advice." And he seemed to mean it.
OK, so it wasn't a major shot or a decisive battle victory for people with hearing loss. More like a little pop. But hopefully the next person with hearing loss who pays good money and goes to a great deal of effort to get over to Fort Sumter, will be able to understand what's being said. And that would be worth it, because history is fascinating.
But, you have to ask. I didn't train my new Park Ranger friends how to identify hard of hearing or deaf people. You'll have to have to do that yourself.
The featured image, 'Bombardment of Fort Sumter', is an 1861 painting by Currier & Ives.
Aerial photo of Fort Sumter, credit ExploreCharleston
Publix Loops Coming to Sarasota
HLAA members and friends – Let's Get Readyyyy to Advocate!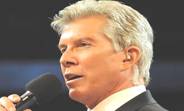 For the past year, Publix has installed loops at stores in Lakeland, The Villages and Sun City. The loops are placed at the pharmacy drop-off and pick-up, the customer service counter and the designated check out lanes. This was a test for response. WE RESPONDED!
Our members and the local Chapter members in those locales have made it a point to stop at those stores and thank them and write a 'thank you". Our advocacy has been successful!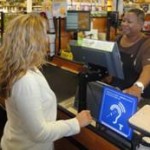 Walgreen's dropped a similar program in Scottsdale a number of years ago since no one thanked them or acknowledged the effort.
In the next few months, installations will take place at Publix stores at:
The Shoppes of Bay Isle, Longboat Key, and
The Venice Commons, Venice
Member and Trustee Eileen Schuler recently sent a "thank you" e-mail to Publix and a portion of the reply said:
"We are testing the system through the end of this year at stores 1270 (Lakeland), 732 (Sun City Center), and 1155 (The Villages). We have the hearing loop system installed on one checkout stand, one register at the customer service counter, and at the pharmacy drop off and pickup areas at each store.
We strive every day to earn and retain your business. We are thrilled that we have passed on the Publix spirit. If we may be of future assistance, please do not hesitate to contact our customer care specialist at 1-800-242-1227. You may also contact us via email at www.publix.com/contact or write us Publix Super Markets, Inc., P.O. Box 407, Lakeland, FL 33802, ATTN: Customer Care."
Jim Scott of Complete Hearing has been doing the Sarasota County installations and advises the installations should be completed by the first week of April. When the employees are trained and the loop system is fully operative, the Chapter will notify the membership by email and Facebook. The Chapter asks you to carry out our mission on advocacy and stop by the Venice and Longboat Key stores to thank them. Also, please but tell your hard of hearing friends to do the same.
Next on the agenda, Starbucks!
You can make a difference by doing the following!
Send Publix Management a short email thanking them for placing loops in other stores and requesting a loop at your local Publix (name the store) at the beginning of the email. Support your request with why the loop makes a difference for you. To send the e-mail go to: www.publix.com and go to "Contact Us" and submit your request in the comment column. You can also comment by phone at 1-800-242-1227.
Tell the manager of your local store now about the loop test elsewhere and that you need a loop system, just like other Publix stores have put in. Give the store manager your email address and ask him or her to post you on any decisions or questions regarding the loop. If you get questions you need help on, please contact [email protected].
If you live near a looped store, check it out and thank the store manager for putting it in. It is important that stores with a loop realize their customers are using it as they will be the key reference for other retailers, banks, emergency rooms, theatre box offices and airport ticket counters which can gain great benefit from this counter top loop system.