Free Hearing Tech Clinic –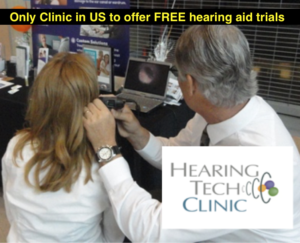 Open House 9-2 PM
The Community Foundation of Sarasota
2635 Fruitville Road, Sarasota
between Tuttle Avenue and Shade Avenue
(one mile east of 301 and four miles west of I-75)
For more information, contact Ed Ogiba at [email protected].
The Chapter is sponsoring the "Hearing Tech Clinic" (March 11 – 9 AM to 2 PM at the Sarasota Community Foundation, 2635 Fruitville Road) to empower consumers to try and compare the latest hearing aids, wireless accessories and assistive listening devices in a clinic environment with the guidance of hearing care professionals.
The Clinic will feature a Tech Solution Center where attendees can visit numerous product stations to experience the performance of:
• Hearing aids. Starkey, Widex and Oticon will be among the leading manufacturers to equip consumers to take a live trial of their most advanced and newest models, such as the Oticon Opn, Starkey Muse and Widex Unique.
• Wireless Accessories. Manufacturers will give consumers the opportunity to try their latest streaming devices and remote microphones that allow a hearing aid wearer direct access to their mobile phones, iPads/tablets, television and stereo systems.
• Assistive Listening Devices. Advocates Better Hearing will represent scores of manufacturers with an array of the latest alerting, alarm and support systems.
• Captioned and Amplified Phones. The leading phone manufacturers will offer attendees the free phone of their choice, with complimentary home installation for captioned phones.
In addition, attendees can get a free hearing screening, free balance screening, or consult with an audiologist or Hearing Loss of America Peer Mentor about any aspect of their or a loved one's hearing loss. There will also be panel discussions with users expanding on their experience with cochlear implants, assistive listening devices, loop and captioning devices in the community, as well as new hearing apps for smart phones.
The Clinic is designed to overcome the two biggest obstacles for people with hearing loss to get the treatment they need. One major factor is many are overwhelmed by the glut of technology the digital age has spawned for hearing care. And the high cost, especially for hearing aids, combines to discourage many from seeking the devices that could significantly improve their lifestyles. The result is that 86% of the 48 million Americans with hearing loss – some 123,000 in Sarasota and Manatee Counties alone – do not get the treatment they need (source: Johns Hopkins Medical Research).
The Hearing Loss Association of America Sarasota/Manatee Chapter is organizing this innovative event.
HLAA Chapter Board Member and audiologist, Dr. Lyndsey Nalu, said, "The Tech Solution Center is designed to help consumers in denial recognize the level of their hearing loss and realize a more active lifestyle can be provided by hearing devices."
The Hearing Tech Clinic is Saturday, March 11, from 9:00 AM to 2:00 PM, with the last consultation sessions to start at 1:00 PM. It will take place at the Community Foundation of Sarasota County, 2635 Fruitville Road, Sarasota. Admission is free.
Try all the latest hearing aids and wireless accessories Cochlear implants, ALDs, phones and home Loops!
Free trials of all the latest, most advanced:
• Hearing aids from the top 4 manufactures
• Wireless accessories for hearing aids
• Wireless accessories for cochlear implants
• Assistive listening devices, captioned phones and home loops
Free hearing screenings
Free balance screenings
Free consultations from audiologists
If you would like to make a consultation appointment, call 941-706-4312.  It is recommended if you have never had a hearing aid before.