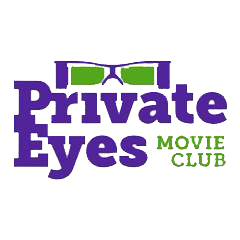 The Private Eyes Movie Club is taking a summer break but … whether "up north" or traveling or here in southwest Florida, you can try out the Sony Caption Glasses anytime and enjoy any show at any Regal theatre and most Carmike theatres including Royal Palm in Bradenton at Routes 70 and 301. Several other regional chains have now gone to Sony caption glasses. The Club expects to have a great movie choice at Hollywood 20 on September 24.
This summer, call ahead and ask if the theatre has the Sony caption glasses.  Even if they don't, the call is a form of advocacy to let them know business will go elsewhere if they don't provide this service.  If you attend and use the caption glasses, thank them—another form of advocacy.
Over 95% of all released movies are now digitally able to transmit captions.  ADA amending legislation is stalled as the National Association of Theater Owners say they can voluntarily comply with captioning. The industry has provided the ability to caption but the local theaters are reticent to invest.  Patronize the theatres that recognize that 14% of its customers need a little help in getting every word of the dialogue.