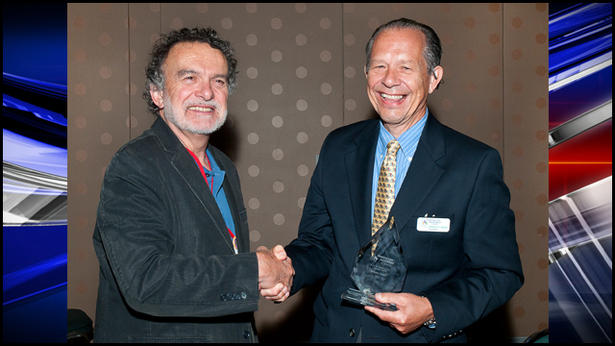 Sarasota, Florida — The Hearing Loss Association of Sarasota (HLAS) was awarded the first annual "National Get in the Hearing Loop" award for its advocacy work in getting the revolutionary loop system accepted by so many local venues in the past year.
The honor was presented by the Hearing Loss Association of America's (HLAA) at its' annual convention in Providence, Rhode Island last week.
Peter Fackler, the HLAA's President, Board of Trustees, praised the Sarasota chapter for its accomplishments, including:
Getting 44 major venues to add a loop system in a community that previously had no loops
Attracting 16 major theatres in the area to add the system, the first city in the US to have more than 4 playhouses in the loop
The first looped movie house (Burns Court Cinema) and first commercial mobile loop (All Ears Hearing Services) in the South of the US
The first two restaurants (Caragiulo's and Owen's Fish Camp) in the United States to employ the portable table loop system
Creating an on-location training program and market support program to ensure each venue properly educated their audience, congregation or membership
Being named the Best Cause of 2012 by Sarasota Magazine for their loop efforts on behalf of 110,000 local people with hearing loss
Ed Ogiba, Chapter President, for being named the Best Visionary of 2012 by Sarasota Magazine
Ed Ogiba for also being named as one of 20 People to Watch in 2011 by BIZ (941) Magazine for promoting this new technology
"Our goal is to make Sarasota, Venice and Bradenton among America's first hearing-friendly cities" said Ed Ogiba, President of the Sarasota Chapter, who accepted the award on behalf of the chapter in release. "This remarkable system will not only bring many of the local 110,000 people with hearing loss back to theatre and community activities, it is also a proven vehicle to build businesses."
HLAS, a non-profit organization, is the local chapter of the Hearing Loss Association of America (HLAA). HLAS helps people with hearing loss through education, mentoring, advocacy and community support. HLAS has monthly meetings, which feature expert speakers and are open to  everyone in the community seeking ways to deal with hearing loss. For more information, call 941-706-4312 or visit www.hlas.org.
(from sarasotabeaches.wtsp.com, by Meilin Tompkins)