We are taking the summer off – BUT- whether you stay in the area, head to your northern retreat or travel for the summer, you can always have captioned movies by checking with www.captionfish.com for captioned movies listings by theatre and movie anywhere in North America!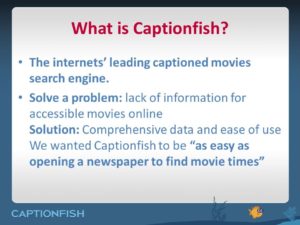 HLAA members are entitled to a FREE movie ticket with their first outing with the Movie Club. Those interested should contact Anne Taylor to be included in the monthly club mailings (anne7257@gmail.com). Meet Anne at the inside box office to get your SONY Caption Glasses and when we have enough attendees, we often get "open captions".
If you are away this summer, you can always have captioned movies by checking with www.captionfish.com anywhere in North America.
Movie Theater Captioning, Part 4 of 4: We're Not Done Yet
Open captioning is great. The captions are right there on the screen. We don't need to self-identify and pick up a viewing device. The theaters don't need any special equipment – they just select the open-caption option from the digital data package, and the captions appear for that showing.
While we like open captions, the theaters don't – or at least, they haven't. Their concern is that a lot of hearing people find open captions distracting. And they have some old data to back this up – prior to digital conversion, Regal showed some open-captioned movies at off
My offhand observation is that people actually exposed to open captioning don't find it all that offensive, but a lot of people think they won't like it. From the theaters' point of view, that's actually the worst possible situation, because those folks won't give open-captioned movies a try. And from our point of view, the problem is that a number of the people who think open captioning would be a distraction wear judicial robes or are federal regulators. So even when we win smashing victories for closed captioning, we lose on open captioning.
And yet . . . there is hope. I've always taken the position that lower attendance at individual open-captioned showings doesn't mean much, and that the real issue is whether some open-captioned showings reduce overall theater revenue. My hypothesis has always been that if open-captioned showings are publicized in advance, people who don't want open captions will go to a different movie at the multiplex or go to a different showing, in which case the theaters don't lose any money. Conversely, people who really do want and need open captioning, even if relatively few in number, represent revenue that the theaters would otherwise not realize.
There is interesting data available. Hawaii passed a law effective in  2016 requiring the larger theater chains in that state to offer some open-captioned showings. (There is some question about whether all the Hawaii lawmakers realized that the theaters already were offering closed captioning.) The affected theaters in Hawaii did a nice job implementing that law in good faith – the open-captioned showings were at different times, not all at off hours, and it appeared possible to see essentially any movie with open captioning at some point during the week.
Here's the interesting thing – even though the Hawaii law expired at the end of 2017, the theaters there appear to still be offering some open-captioned showings. Other theaters in other parts of the country are doing the same. So even though the legal battle may have been lost, the public relations and customer-service approaches appear workable, and in fact, appear to be gaining ground. It certainly helps to have high-profile individuals like Nyle DiMarco speak out in favor of open captioning. (I would suggest that any open-captioned movie Nyle DeMarco planned to attend would have a terrific turnout.)
There are ways captioning can be made to work for everyone. A typical movie is shown 31 times per week – four showings each weekday, five each weekend day. (Friday is a weekend day for movies.) People with hearing loss represent about 8% of the United States population, and we vastly prefer open captioning. Would it be too much to ask theaters for two open-captioned showings at each auditorium each week? And would it be too much to ask that those showings be staggered, so that there is always at least one open-captioned movie at the multiplex, and at least one opportunity to see each movie on a weekend?
I think the key here is to be reasonable and recognize the legitimacy of the theaters' concerns. We cannot expect everyone to "live in our world" and accept open captioning immediately, nor can we expect the theaters to accept reduced attendance on the opening weekend of a real blockbuster, when people who don't want open captions really might go elsewhere. But by week three or four, even blockbusters aren't filling the auditorium any longer, and open-captioned showings could be scheduled at times that wouldn't reduce overall theater attendance.
One great thing about the ADA, as we all know, is that it does not trump state or local laws more protective of people with disabilities. If we don't like what ADA gives us, we can try to get our state or city to do better. Drawing on the Hawaii experience, I think reasonable open-captioned accessibility is a promising subject for such laws. I know efforts are under way in some jurisdictions, and I hope efforts of this sort flower in many spots.
Having been involved in movie theater captioning litigation for the past ten years, I'm happy to see a project of this magnitude finally coming to a successful conclusion. We'll be able to have captions for every movie, although there are a few small independent films that may still be released without captions, and there's the persistent, vexing and unexplained problem of uncaptioned previews. But with the adoption and implementation of the DOJ regulations, the theater doors are largely open to us once again.
Movie Theater Captioning
HLAA members are entitled to a FREE movie ticket with their first outing with the Movie Club. Those interested should contact Anne Taylor to be included in the monthly club mailings (anne7257@gmail.com).
It is important that you RSVP to Anne, as we need a count to reserve a pair of caption glasses.
Also, do take advantage of captionfish.com anywhere in North America to not only see what movies are captioned, but which device the theatre uses.
Attorney John Waldo is a regular presenter at HLAA Conventions and is counsel to the Association of Late Deafened Adults (ALDA), a nationwide support and advocacy group. He has won major court victories to force movie theatres to caption movies. John has written a four-part series on movie captioning and Listen! Up is posting these in Private Eyes.
Part 1 and Part 2 are on the website at: http://hlas.org/membership-notes/.
Movie Theater Captioning, Part 3 of 4: A National Requirement 
The U.S. Department of Justice, which is empowered to enact regulations implementing the ADA, had shown a mild interest in movie captioning as early as 2008, when it indicated that it might enact regulations at some future time. Then in July 2010, very shortly after the Harkins decision came down, DOJ proposed regulations that would require theaters to provide captioning in 50% of their auditoriums.
At this point, the Harkins case was back in district court on remand to ascertain the point, if any, at which captioning would be an undue financial burden. The theater then tried a Hail Mary move, and asked the court to stay any further action pending final DOJ regulations. DOJ filed a Statement of Position opposing the stay, saying that accessibility is required by ADA, that implementation should not await regulations, and that the question of undue burden was one uniquely suited for resolution in court
Essentially, DOJ told not just the Harkins chain but essentially all theaters that they had two choices. They could either provide closed captioning, or they could be subject to piecemeal litigation in multiple jurisdictions that they would probably lose.
By early 2011, the major theater chains had essentially seen the light and given up. In part to resolve a follow-up case in California, Cinemark and Regal committed to every theater captioning nationwide. In our Washington State case, AMC committed only to doing what DOJ might ultimately require and argued that providing captioning in every theater would be an undue burden because the cost of providing caption-viewing devices would exceed the revenue those devices might generate. AMC lost that argument in Washington State on the basis that undue burden must be measured based on overall ability to afford the accommodation, not on whether providing them is cost-effective. In less than a month after that state court ruling in Washington State, AMC also agreed to 100% compliance nationwide.
DOJ also realized that its 2010 proposed regulations for captioning at 50% of theaters was outmoded, because it was far less access than was actually being provided. DOJ issued new proposed regulations in 2014 calling for closed captioning in every auditorium of every theater once that theater converts to digital projection. The stated rationale for the regulations is to ensure that the results obtained through litigation are realized on a uniform, nationwide basis.
The final regulations were adopted on December 2, 2016.They are found at 28 CFR 36.303(g). They provide an 18-month phase-in, so the magic date was June 2, 2018 for most theaters. (Theaters that had not converted to digital projection by December 2, 2016 – the publication date for the regulations – have until December 2, 2018 to provide captioning.) The regulations state that caption-viewing devices must be adjustable so that captions can be viewed in the same line of sight as the screen. The regulations also require theaters to provide movie-by-movie notice that captioning is available.
And there we have it – an essentially completed project. But a lot of us remain disappointed that the DOJ and the courts have given controlling weight to the legislative history, and have refused to require open captioning, which most of us prefer. Is there any hope there?
Movie Theater Captioning, Part 2 of 4: The Tide Turns
"While courts were struggling with the concept of movie captioning, technical developments were moving in the right direction. Although under no legal obligation to do so, most movie studios began providing captioning for their releases, and furnished the captions free of charge to the theaters. Also, the theaters and studios were moving closer to digital distribution and projection, in which digital data packages replaced traditional 35 mm film. Again, captions would be furnished free of charge to the theaters. The theaters' obligation would be to purchase, install, and use the equipment needed to allow the captions to be viewed.
The legal landscape was also shifting dramatically. The perfectly awful Arizona District Court case went up on appeal. Since that was the first of the movie-captioning cases to reach the appellate level, we knew it would be really important. John Stanton and I, among others, wrote amicus briefs. Knowing that there would likely be some deaf people in the audience, I was "assigned" to ask for live CART captioning in the courtroom for the oral argument, and that was provided.
Oral argument before the U.S. Court of Appeals for the Ninth Circuit was in San Francisco in January of 2010, and it was truly an epic moment. Chief Judge Alex Kozinski, who notwithstanding or justifying his personal flaws was a great champion for people with disabilities, took over the questioning. He pointed to the CART screen, and said, "this is no big deal." He then asked the attorney for the Harkins theater chain, "Why are you guys fighting about this? You are going to lose on this issue. Why don't you get out in front of it and look like heroes instead of kicking and screaming and looking like a bunch of jerks?"
As we all know, you can't always predict how an appellate panel is going to rule based on the questions being asked. This time, though, I thought I probably had a pretty good idea. Judge Kozinski did say that the challenge was accommodating our needs without altering the movie-going experience for everyone else, which suggested that open captioning was going to be a tough sell. The decision came down in May of 2010. In its decision, the Ninth Circuit declared that although the ADA does not require open captioning, it did require closed captioning up to the point that providing captioning would be an undue financial burden. In response to the theater arguing that there was no difference between open and closed captioning, the court said that open captioning, visible to everyone, could alter the movie-going experience for others, and could therefore be construed as a fundamental alteration.
While the Harkins case was on appeal, our Washington State advocacy group (Washington State Communications Access Project, or Wash-CAP) filed a case under Washington State law against the corporate theater owners operating in the Seattle area. We thought that if Harkins went badly, we still had a shot under Washington State law, which is considerably more protective of people with disabilities than is the ADA. (In putting that case together, I relied a lot on a Harvard Law Review article by DHHBA member Michael Stein that perceptively analyzed why some of the earlier captioning cases might have gone badly.)
The Washington trial court handed down a decision virtually identical to the Harkins decision on almost exactly the same day – an order that theaters would have to provide closed captioning up to the point that doing so would impose an undue burden. That outcome was ultimately affirmed on appeal.
So now we had two really good decisions – a federal appellate-court decision involving Harkins – a powerhouse movie chain in Arizona but a non-presence elsewhere – and a state-law decision involving all the major theater chains, but applicable only to Washington State. The next challenge was to spread these good outcomes everywhere".
Part 1 of 4: A Wonderful Statute and an Unexpected Problem
Going to the movies remains America's favorite night out, but ever since the movies added sound to the moving picture, millions of us with hearing loss have been unable to fully enjoy that experience. Thanks to the Americans with Disabilities Act, the efforts of a number of Deaf and Hard of Hearing Bar Association (DHHBA) members, and advances in technology, we should very soon be able to not only see but also understand virtually every movie at every theater.
As we all know, the ADA requires places of public accommodation like movie theaters to offer auxiliary aids and services, which are defined as "qualified interpreters or other effective methods of making aurally delivered material available to individuals with hearing impairments." Businesses must provide those aids unless they can show that doing so would bring about a "fundamental alteration" of the business or impose an "undue burden." Implementing regulations state that captioning is an auxiliary aid. It would therefore appear self-evident that movie theaters would need to provide captions – putting the dialogue and other aural information into written form and displaying it visually in sync with the on-screen action – unless they could establish one of the two recognized affirmative defenses.
But it was not that simple. The ADA statute itself says nothing about movies, but legislative reports from both the Senate and the House stated that the ADA does not require theaters to show open-captioned films, in which the captions are displayed on the screen and visible to the entire audience. Neither that statement nor the legislation so much as acknowledged the conflict between the two, much less attempts to reconcile the tension.
Not surprisingly, the affected parties had diametrically opposed views on how to resolve the square conflict between the statute and the statement of legislative intent. The theaters believed the legislative history meant that all they needed to do was provide assistive-listening devices, and that no captioning was required. The deaf and hard-of-hearing movie-going community believed that the language of the ADA statute should control, and that if the theaters did not provide open captioning, they should at least have to provide closed captioning, in which captions are visible on individual viewing devices to patrons who request them.
Unable to resolve the plain contradiction between text and history, some courts simply tried to avoid the problem altogether, and those efforts led to some terrible outcomes. In the first case about movie captioning, plaintiffs asked a court in Oregon to require theaters to install devices that would display closed captions. The court refused, holding that doing so would impose an undue financial burden on the theaters. In a case from Texas, the court agreed that caption-viewing devices would cost too much, and that really, all the ADA required was that the theaters let us enter the building and take a seat, and that if we couldn't understand the dialogue, well, that was basically our tough luck. And in a case from Arizona, the court said that the theaters did not have to alter their products – uncaptioned movies – in order to meet their ADA obligations.
One bright spot was a 2003 case from the District of Columbia, in which DHHBA member John Stanton was a named plaintiff and leading strategist. The case asked for closed captioning at a reasonable number of theaters – in other words, however many wouldn't constitute an undue financial burden. The court acknowledged the conflict between the ADA text and the legislative history but reconciled it by noting that open captioning and closed captioning are fundamentally different, and that nothing in the legislative history suggested closed captioning could not be required.
Still and all, the situation in 2005  – 15 years after ADA was passed – was a disappointment. We had a few theaters offering a few captioned movies in a few locations at mostly inconvenient times. The ADA goal of "full and equal enjoyment" was a long way off.