Behind The Curtain Theater Club
The 89th season of the Players Theatre has drawn to a close, but the Summer Sizzler Series has three great shows.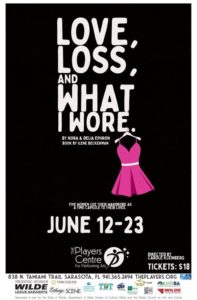 Proving that a great show is always in fashion, Nora Ephron's Love, Loss, and What I Wore has become an international hit. The show uses clothing and accessories and the memories they trigger to tell funny and often poignant stories that all women can relate to, creating one of the most enduring theater-going experiences.
The Players offers 25 FREE tickets to us for the opening night. Reservations can be made with Chapter member John Wagner at johnadri@comcast.net.
First up on Wednesday, June 12, is:
               Remember, only the first 11 rows at Players are looped!
This is a perk of your membership – Members Only for this freebie!