Behind The Curtain Theater Club
CURTAIN TIME THEATRE CLUB
Next "meeting" is October 31 at 7:30 PM.
The Players Theatre next production for the 88th season will be "Moon Over Buffalo".
The theater provides the chapter with 20 to 25 FREE tickets for the pre-opening show of each of its Broadway series productions. This is another Members Only perk, a great benefit of our nominal membership dues. The shows are, of course, looped! Contact hla.sarasota@gmail.com  for tickets.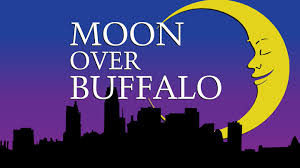 This month, October 31, the Broadway Series presents:
Moon Over Buffalo
In the madcap comedy tradition of Lend Me A Tenor, this theatrical farce centers on George and Charlotte Hay, fading stars of the 1950s. On the brink of a disastrous split-up caused by George's dalliance with a young ingénue, the nearly washed-up stage duo receives word that they might just have one last shot at stardom!
**********
Also, if you deal with your hearing loss with a sense of humor, this show is for you. A review of an Oklahoma production of "Moon Over Buffalo" last month said this:
"Another bright spot was Carol Lynn Fry as Ethel the hard of hearing grandmother. She was funny in pretty much every scene she was in. Again, the schtick of "what's that?" to everything the other characters say would on the surface seem dated, but she makes it work. There are even a couple of sequences where she can hear perfectly that are also funny."
If you use the box office in person, thank them for the loop.  
If you attend a performance, thank them for the loop.