Behind The Curtain Theater Club
CURTAIN TIME THEATRE CLUB – PLAYERS
The 90th season of the Players Theatre is opening in perhaps its last full season in Sarasota. Players is heading to the new facility in Lakewood Ranch in 2021.
We have FREE tickets to the great holiday show this year, "Hello Dolly", on December 3 at 7:30 PM. An option for a pre-show dinner is offered.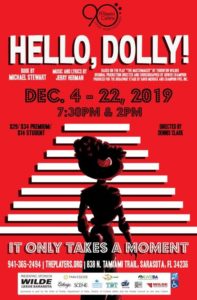 HELLO, DOLLY!
The romantic and comic escapades of Dolly Gallagher-Levi, turn-of-the-century matchmaker and "woman who arranges things," are certain to thrill and entertain audiences again and again. The show's memorable songs include "Put Your Sunday Clothes," "Before the Parade Passes By," and "Hello, Dolly!"
The Players offers 25 FREE tickets to us for the opening night. Reservations can be made with Chapter member John Wagner at johnadri@comcast.net.
               Remember, only the first 11 rows at Players are looped!