APRIL LISTEN!UP COVER STORY
WRAPPING UP THE "SEASON" – THREE INFORMATIVE MEETINGS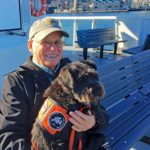 Wednesday, April 10, 2019
Chapter Meeting – Noon to 1:30 PM, North Sarasota Library
Dan Ladimir, Title IV ADA Specialist
ClearCaptions -"Communicate Easier on the Phone – At No Cost!"
Dan will explain how captioning service is paid for through Title IV of the Americans with Disabilities Act (ADA). Just as captioning can help you watch TV, you can see your entire phone conversations on landline and mobile phones in real-time – and at no cost.
Henry Kisor is the retired book editor of the Chicago Sun-Times and author of six mystery novels set in the Upper Peninsula of Michigan. He was a finalist for the Pulitzer Prize for Criticism in 1981 and was inducted into the Chicago Journalism Hall of Fame in 2001. Kisor's reviews and articles have appeared in the New York Times Book Review, the Los Angeles Times, The Washington Post and on MSNBC.
Henry, who has lived with profound deafness since the age of three, will give attendees insight into strategies he employed to create a full and successful life. He will point out how people with any degree of hearing loss can do the same.
For more information or support, contact info@hlas.org or 941-706-4312