DECEMBER LISTEN!UP COVER STORY
FIVE NEW CANDIDATES NOMINATED
FORCHAPTER BOARD ELECTION DECEMBER 12
The Chapter is fortunate to have five outstanding candidates for the Board of Trustees two-year term for 2019/2020. Nominations were closed  14 and the election takes place at the Chapter meeting on December 12.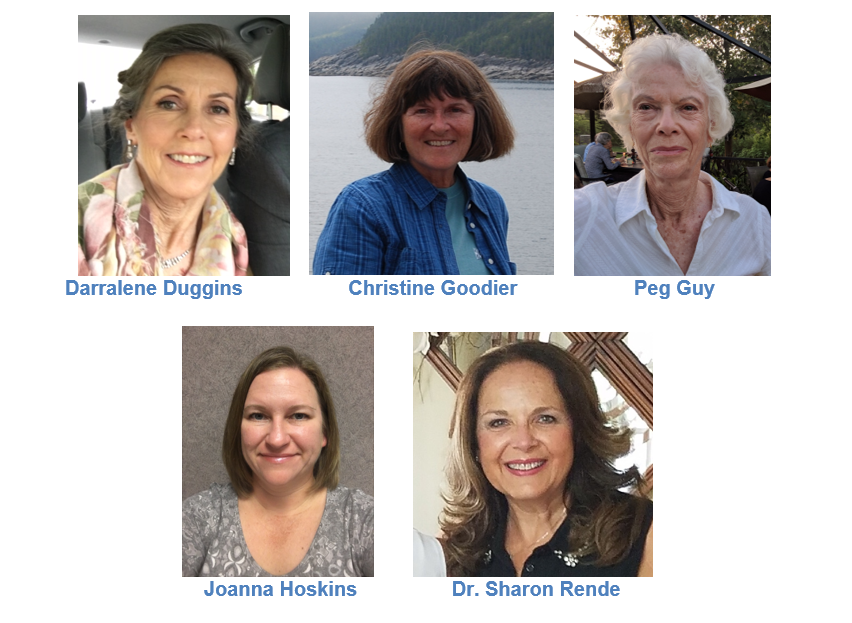 Following is some background on our candidates:
DARRALENE DUGGINS is a former store executive for Macy's and learned the skills of team building and goal achievement. She continues to be active in the community and with her church.
CHRISTINE GOODIER has been a member of SHHH/HLAA for over ten years and brings skills as a writer and editor for travel and consumer magazines as well as being the author of "Traveling with Service Animals". She has worked and volunteered with several nonprofit organizations and continues to be active with Dogs for Better Lives.
MARGUERITE "PEG" GUY has been active with nonprofits since coming to the area in1983. She is a past president of the Sarasota Opera Guild and continues to be active with Sarasota's Downtown Association. She has chaired the Circus Gala and has been active with Habitat for Humanity and a former member of the board of Girls Inc.
JOANNA HOSKINS brings a rich experience with the deaf and hard of hearing. She has served on the Board of Trustees for the Community Center for the Deaf/Hard of Hearing and currently is overseeing programs for students with hearing loss in the Manatee County schools. She has taught ASL and keeps current with hearing assistive technology.
SHARON RENDE has been an audiologist for 30 years and has relocated from Albany to serve as Director of Audiology for the Silverstein Institute. She was an active member of the Albany HLAA Chapter for 25 years and served as their Professional Advisor. Her experience includes numerous research publications, and service on boards and committees in her profession.
In addition, Chapter Vice President Vinell Lacy is a nominee for her third term on the Board.