Farmer's Market
Every 4th Saturday of the Month 7 AM to 1 PM 
Our monthly information and support booth offers an opportunity for people to learn how to address their hearing loss.
The Chapter has a permanently assigned site, 1920 State Street between Lemon and Pineapple.
There will be free hearing screening each month by one of HLAA-Sarasota/Manatee's Pro Partners. If you have a friend who needs hearing help and cannot make one of our meetings, please suggest they visit us here.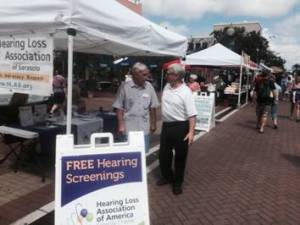 Members are encouraged to volunteer a two hour shift. Let Dave Donnelly know if you can help HLAA-Sarasota/Manatee out by contacting hla.sarasota@gmail.com .