Farmer's Market         
Every 4th Saturday of the Month 7 AM to 1 PM 
Our monthly information and support booth offers an opportunity for people to learn how to address their hearing loss.
The Chapter has a permanently assigned site, 1920 State Street between Lemon and Pineapple.
There will be free hearing screening each month by one of HLAA-Sarasota/Manatee's Pro Partners. If you have a friend who needs hearing help and cannot make one of our meetings, please suggest they visit us here.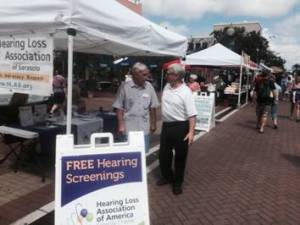 Members are encouraged to volunteer a two hour shift. Let Dave Donnelly know if you can help HLAA-Sarasota/Manatee out by contacting hla.sarasota@gmail.com .
Outreach
The Chapter's Outreach program covers over 100 events a year. Please contact Dave Donelly to "pay it forward" by attending events with our table and materials and informally offering education, advocacy and support to members of our community. On the job training is available at any Farmers Market day or a special event. Let Dave Donnelly know if you c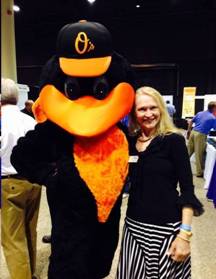 an help HLAA-Sarasota/Manatee by contacting hla.sarasota@gmail.com .
JoAnne DeVries and Dave Donnelly met lots of folks, fair and fowl at the Manatee Chamber of Commerce event last month.