THE AFTER HOURS MEETING of HLAA – SARASOTA/MANATEE 
Tuesday, August 7, 2018 6:00 PM
"After Hours" is the evening chapter meeting for members and guests who are unable to attend during the day. Of course, all members and guests are welcome!  By the way, cheese, snacks and products of Napa and Sonoma are served! 
At the last meeting, Mark Selis presented the latest information on hearing aid technology and available accessories. The Q & A continued well past the end of the meeting, and attendees enjoyed some delightful treats prepared by Flo Innes.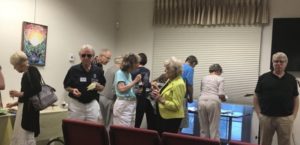 Tuesday, February 6, 2018 6:00 PM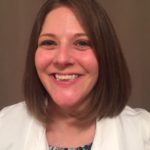 Audiologist Dr. Karen Draper, FAAA, CCC-A will be our speaker. 
She will address cochlear implant candidacy, technology, and services.  
Dr. Draper, born and raised in Orlando, is a native Floridian. She received her Bachelor of Arts degree in Communication Sciences and Disorders from the University of Florida in 2003 and her Doctor of Audiology degree in 2007, also from the University of Florida.  She is a licensed audiologist in the state of Florida and is certified through the American Speech, Language, and Hearing association (ASHA). 
Dr. Draper specializes in programming implantable hearing systems including cochlear implants and bone anchored hearing devices, and has also given many papers on the topic at various conferences nationwide.
JOIN US THE ROOM IS LOOPED!
Tuesday, November 14, at 6:00 PM
Centers for Arts and Humanities
1226 N. Tamiami Trail in Sarasota
NOVEMBER "AFTER HOURS" MEETING RECAP 
CROSS-MODAL NUERALPLASTICITY (read on and learn) 
Attendees now can tell you all about this thanks to Dr. Lyndsey Nalu.  
Her presentation at the November 14 "After Hours" was entitled, "Detrimental Effects of Untreated Hearing Loss"; however, Dr. Nalu took this to another level! 
We know that only 20% of the 50 million in the U.S. do something about their hearing loss. Reasons for the 80% – denial, stigma, vanity, expense.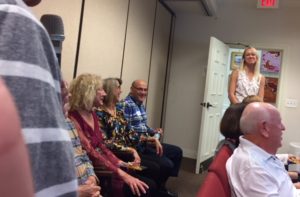 Dr. Nalu explained how we hear with the brain and not our ears. Even at mild and moderate levels, the ability to distinguish letter sounds is diminished. Folks with untreated hearing loss lose connection with friends and family and can become isolated, leading to dementia and even Alzheimer's.
Attendees learned that a lack of aural stimulation could lead to visual and temporal takeover of the auditory portion of the brain. Dr. Nalu related studies that show that inability to hear in noise is due to the reorganization of the brain –"Cross-Modal Neuroplasticity"– not the hearing aid. The frontal thinking portion of the brain may be recruited to assist in hearing, thus leading to dementia. Hearing aids, the earlier the better, can reverse this reorganization.
Bottom Line:
Protect your hearing and do not delay treatment. Use LACE and other apps to assist hearing in noise.
The Johns Hopkins studies and others in recent years relating hearing loss to dementia sparked a lively Q and A. The 1966 Medicare Act denies coverage for hearing aids, eyeglasses and dental care as "elective choices" — really!  HLAA, AARP and many other groups cite these studies linking hearing loss to dementia as a basis to amend the statute for hearing aids. HR 3426 is introduced each year to amend the statute, but never gets out of the Energy or Ways and Means Health Subcommittee. One Florida member sits on that subcommittee, Sarasota and Manatee's Congressman, Vern Buchanan. Contact him at: https://buchanan.house.gov/contact.
It was agreed by the "After Hours" group that Dr. Nalu's presentation linking hearing loss to dementia should be presented to the Subcommittee to show that untreated hearing loss can lead to the very expensive costs of dementia and Alzheimer's.